Ruvati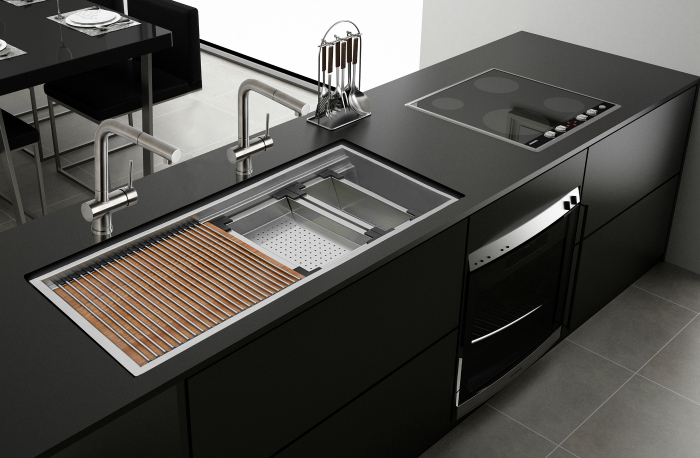 July 24, 2017
Ruvati introduces the 45-in. Workstation Sink, which features an array of accessories that slide on double-tiered tracks. The sink includes two cutting boards that will fit on either the top or lower track, enabling you to slide one on top of the other. The cutting boards are flat on one side, but when flipped, they convert into a tray with raised edges. The two cutting boards placed side by side will add extra space for food-prep or entertaining. The reversible cutting boards are constructed of sapele wood (African Mahogany) – a luxurious hardwood with a beautiful finish that is durable and water-resistant.
Also included are one deep and one shallow stainless steel colander that slide on the lower track. The roll-up rack fits on the top track and is ideal as a dish drying rack. It is constructed of stainless steel bars and a flexible silicone frame, allowing you to fold it to the right size or roll it up tightly for storage when not in use. Two stainless steel rinse grids sit on the bottom of the sink and protect the sink bottom during daily use, and provide a space to dry dishes or large pots and pans.
Crafted in premium grade stainless steel with a 10-in. deep bowl, Ruvati's spacious sink features a 1-in. slope from one end of the sink to the drain, which includes a removable Basket Strainer for easy cleanup. The sink is reversible, so it can be installed with the drain on left side or right side.