Brian Boggs Chairmakers Sunniva Outdoor Swing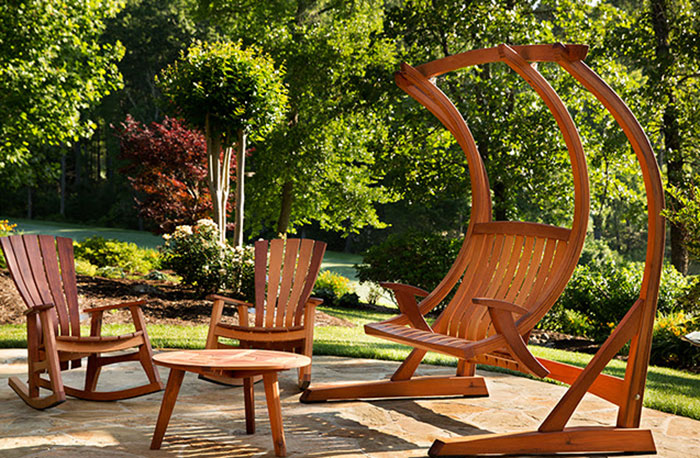 March 25, 2022
Brian Boggs Chairmakers is thrilled to present the Sunniva Outdoor Swing, a luxurious outdoor porch swing that is made in America. Handcrafted from gorgeous and sustainably managed Honduran mahogany, as seen on luxury yachts, this opulent outdoor swing is inspired by the flowing curves of Asian timber frame architecture. Winner of the A'Design Award and Competition, a prestigious and influential design accolade, the Sunniva Outdoor Swing offers ultimate relaxation and fits seamlessly into an outdoor setting. When attached to its optional cantilevered stand, the swing sways on silent bushings to allow for uninterrupted contemplation. Premium wood selection and precision micro-compression joinery contribute to the weatherproofing of this functional masterpiece of garden architecture.
For this design, Brian Boggs reinterpreted the traditional porch swing as a piece of art that would be considered inviting, attractive and comfortable. He created a swing that recalls natural elements, such as the subtle flexibility and unobstructed support of tree branches. Identifying how straight lines and angles can make a porch swing feel artificial and static, Boggs designed the Sunniva Outdoor Swing to suggest movement and organic comfort in its structure. 
The durable Honduran mahogany wood used to make the Sunniva Collection comes from a trio of sawyers' cooperatives that sustainably manage the rainforest near their small community of Copen. The purchase of wood is critical to the success of Greenwood, a nonprofit organization Boggs helped found in 1993, that works with remote forest communities to help them manage their forests and create valuable wood products.