Perlick Marine and Coastal Grade Undercounter Refrigeration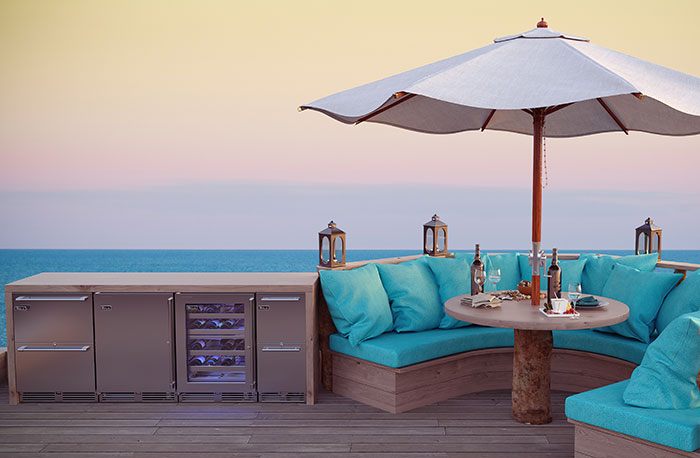 April 23, 2022
Perlick has launched the Marine and Coastal Grade Undercounter Refrigeration with Perlick Armor, designed for life in the most extreme conditions, so you can enjoy the ultimate in refrigeration wherever you find paradise. An upgraded version of the brand's best-in-class undercounter refrigeration line, Perlick Armor is the first and only all-stainless marine-grade undercounter refrigeration line available today.
Whether your next project is a home in coastal conditions, a saltwater pool or a boat on the open water, the harsh effects of high-salt environments can wreak havoc and weather outdoor appliances prematurely. Perlick's new Marine and Coastal Grade Undercounter Refrigeration featuring Perlick Armor is built to endure the harshest of environments while maintaining consistent functionality and a showroom quality finish. 
Perlick Armor combines a mix of 316 and 304 stainless steel for food safety and easy cleaning, rather than plastics found in some marine grade products. Units also come equipped with upgraded 18-8 stainless steel and zinc plated fasteners to ensure rust won't form in attachment zones. Additionally, a protective coating is applied to the refrigeration system for added durability. The Perlick Armor upgrade package is available on all HP & HH series residential models. 
The new line was inspired by a conversation Perlick had with a long-time customer who resides on the Atlantic Coast. She was looking for an alternative solution to her rusting outdoor appliances. The conversation prompted Perlick engineers to develop Perlick Armor, which will be an essential product for any Perlick fan with a coastal or on-water lifestyle. Perlick values the voices of its customers and endlessly works to provide the solutions people are looking for in their luxury appliances. 
Perlick's residential refrigeration line is designed with the industry's most energy-efficient cool-down, pulling temperatures down 70% more quickly than leading competitors. Perlick's residential line also proudly offers a six-year full parts and labor warranty.