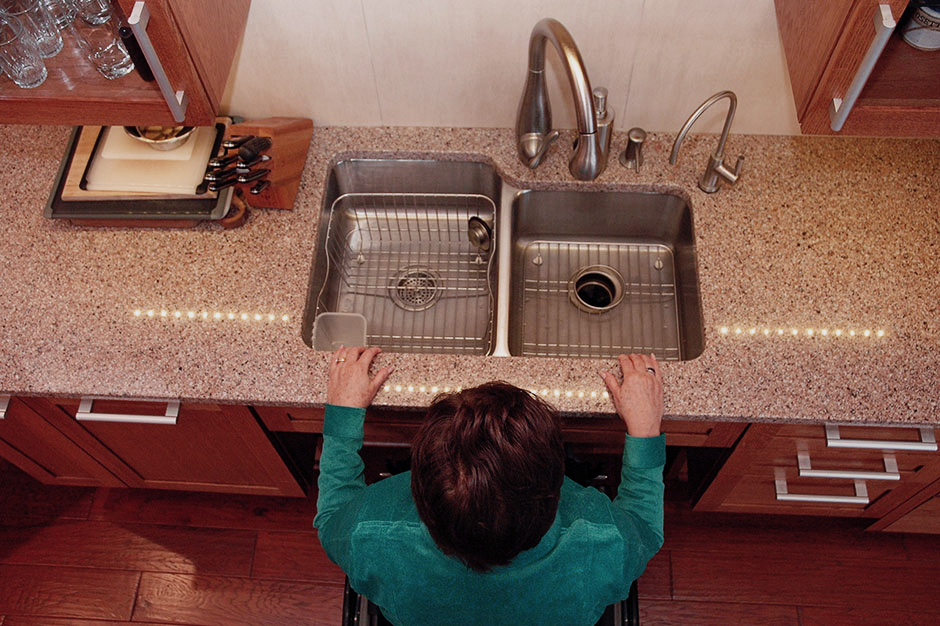 February 25, 2019
Above Image: Universal design expert Rosemarie Rossetti aimed to create a home that she could function independently in while in her wheelchair.
By Rosemarie Rossetti
The Universal Design Living Laboratory (www.udll.com) in Columbus, Ohio, is the top-rated universal design home in North America with three national universal design certifications. It is also very green, having earned the Silver LEED certification from the U.S. Green Building Council, and it is Gold Certified on the National Green Building Standard program.
My husband and I were the general contractors and have lived here since May 2012. I use a wheelchair and am 4-ft. 2-in. tall seated, and Mark is 6-ft. 4-in. I love to cook, and he does the cleanup and makes salads.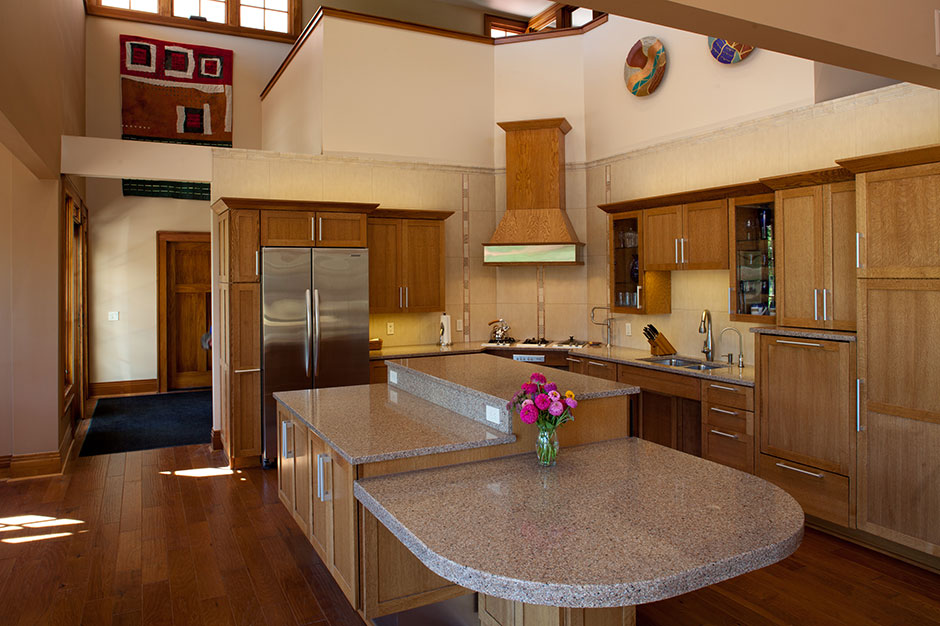 The cooktop is level with the 34-in.-high countertop and has ample knee space for Rossetti to roll underneath. The pot filler is at a convenient location above the stove.
When the kitchen was designed, we made sure that I could function independently in my wheelchair. Our goal was to have at least 50 percent of the storage space reachable from a seated position ─ 18 to 48 inches from the floor. We worked with a national design team, including locally-based architect Patrick Manley, interior designers, Anna Lyon and Mary Jo Peterson and interior designers from KraftMaid and Kohler.
Center Island with Three Countertop Heights
For people who are in wheelchairs, a 30-in. countertop is a comfortable height for food preparation and dining. One end of our center island is that height and has no cabinets beneath it, so there is plenty of leg room for those who are seated at this section. The second section is 35 inches high, which is comfortable for most people who are standing. The third section is 40 inches high, an ideal height to accommodate my husband.

Storage in Deep Drawers vs. Shelves
The two deep drawers with easy-glide hardware under the perimeter countertop are at a very convenient height for everyone to access the dishes, pots, pans, lids and skillets that are stored in them. These drawers are right where I need them, to the left of the cooktop.
Positioning the Upper Wall Cabinets
To help make the storage area in the upper wall cabinets more reachable, consider installing them 14 inches above the countertop rather than the traditional 18 inches. This is an advantage for people who are short or seated and poses no problem for tall people. This also eliminates the need for a person to climb up on the countertop or use a step stool to reach items in the wall cabinet. The less climbing, the lower the risk of falling.
Clear Turning Radius
To accommodate a person who uses a wheelchair, attention must be given throughout the kitchen to allow that person to completely turn in a circle to maneuver. Typically, a 5-ft. radius is needed, however, with larger wheelchairs that space may need to be enlarged.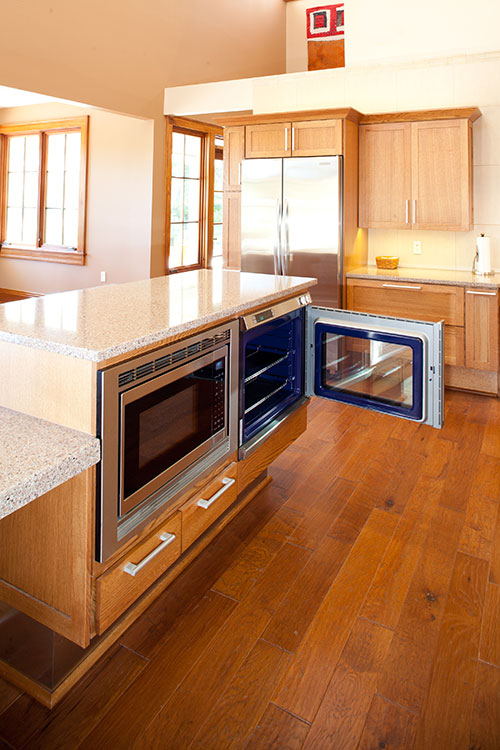 The Universal Design Living Laboratory serves as an example of how to best design for everyone of all ages and abilities.
Positioning the Microwave
The microwave is easier for people who are seated – as well as those who are standing –to reach when it is installed under a countertop rather than over a range or cooktop. An alternative is to have a freestanding microwave on the countertop.
Knee Space Under the Sink & Cooktop
The space for the sink and cooktop should be of sufficient height and width so a wheelchair user can roll under both. Instead of installing a base cabinet in these areas, consider using wall-mounted L-brackets or other means for supporting the countertop spanning these spaces. Either leave the space open underneath or install a cabinet face frame with removable or side-retractable, self-storing doors. Don't forget to extend the finish flooring to the rear wall under these areas so when the doors are removed or open people see that the flooring is finished.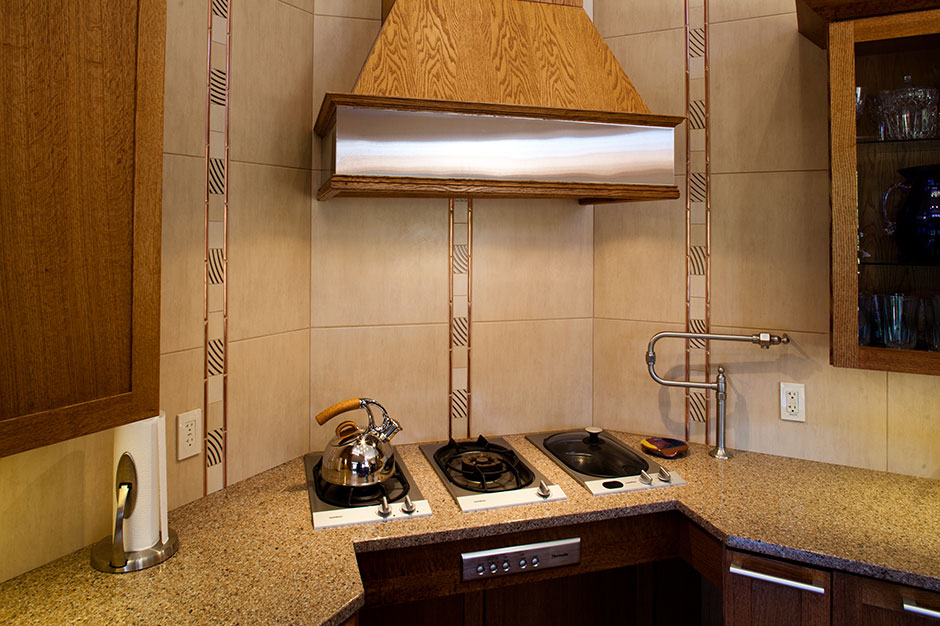 The controls for the range hood ventilation fan and lights are located on the range hood, as well as a remote unit at waist high level.
Based on the wheelchair user's physical size, consideration should be given to the counter height, the depth of the sink bowl(s) and the front valance panel height.  Choose a sink with a drain as rearward as possible to minimize plumbing pipe and garbage disposer obstructions. For safety and accessibility, the garbage disposer switch can be mounted conveniently under the front of the counter rather than on the rear wall.
Cooktop vs. Range
A drop-in cooktop is preferred to a range with an oven so knee space is available under the cooktop. When designing the counter for the cooktop, 34 inches high is more convenient for people who use wheelchairs than the standard height of 36 inches. The controls for the range hood ventilation fan and light need to be reachable from a seated position, which involves installing a set of controls at waist level.
Cabinet Door and Drawer Hardware
Select cabinet door and drawer hardware that is easier to grasp and pull for people who have paralysis or arthritis. Select functional hardware that won't slip out of your hand when your hand is wet or greasy.  "D" or straight bar-shaped handles are preferred over small knobs because using them requires fewer fine motor skills with your fingers, like pinching. Avoid handles with end protrusions that can snag clothing as a user passes by, and specify soft-close mechanisms with bumpers/silencers.
The sink drain and garbage disposer are positioned toward the back of the sink, giving more knee space.
Dishwasher Location
Design the dishwasher to be installed next to the sink, and raise it 8 to 18 inches above the floor to make it easier for all people to load and unload dishes. A storage drawer can be installed under the dishwasher.
Rosemarie Rossetti, Ph.D., is an internationally known speaker, trainer, consultant and author of the Universal Design Toolkit. To contact Rosemarie and learn about her speaking services, visit: www.RosemarieSpeaks.com.
Source List
Architect: Patrick Manley, Manley Architecture Group
General Contractors: Rosemarie Rossetti & Mark Leder
Interior Designers: Anna Lyon & Mary Jo Peterson
Photography: Credit of Universal Design Living Laboratory
Cabinets & Hardware: KraftMaid
Cooktop & Oven: Gaggenau
Countertop: Cosentino
Dishwasher & Refrigerator: KitchenAid
Faucet, Pot Filler & Sink: Kohler
Microwave: Thermador