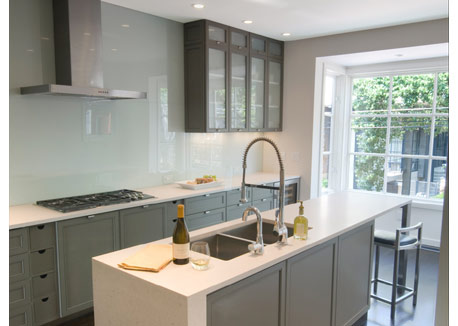 February 1, 2012
Architect John Senhauser, FAIA, of John Senhauser Architects, had originally designed a narrow, urban row house in the Mt. Adams area of Cincinnati back in the late 1980s. When the house changed hands, the new owner came back to Senhauser looking for a fresher, more functional kitchen.
The original kitchen, which wasn't designed by Senhauser, featured an endless series of wall cabinets, an oversized island and limited clearances. The narrow space, measuring 11 ft. x 19 ft., was congested and weighed down visually by large expanses of dark countertop. "All the cabinetry made for a thick space," said Senhauser. "The kitchen was previously designed for a bachelor and had a TV and various entertainment components that the new owners didn't like."
In order to improve the flow of the long, constricted space, Senhauser swapped the locations of the sink and cooktop, placing the sink on a slimmed down island with the cooktop on the facing counter. The island's overall width was reduced, and the length increased to complement the proportions of the kitchen. Additionally, the seating was moved from the island's side to the end.
Along with resolving space issues, the remodel focused on employing sustainable practices to achieve the kitchen's minimalist makeover. "We're interested in designing responsibly as a matter of course," said Senhauser. "We weren't looking for LEED certification, but wanted to incorporate as many environmental aspects as possible." The existing cabinetry was retained to prevent it from going to a landfill. "We looked at the cabinetwork, and it was a nice quality and in good condition," said Senhauser. "So we thought, 'Why not reuse it?' To make the look less traditional, we added glass to some of the doors." Any remaining cabinetry that wasn't used was sent to a local resale center.
Other environmentally friendly touches include a low-VOC finish for the cabinetry, energy-saving appliances and a water-conserving dishwasher and faucet. The kitchen's bright, open feel is due in part to the large expanse of back-painted glass that contains recycled content and was used for the backsplash. "The glass has a great reflective quality," said Senhauser. "It's very abstract. If we had used tile, it would have become more about pattern and color. Instead, the glass gives a perception of depth."
To provide contrast to the pared-down cabinetry and overall soothing color palette of sage green and white, the floors were refinished in a deep hue. "Most people are afraid of dark floors," said Senhauser. "When you have a lot of wood finishes and you try to match them, the impact gets lost. But here, the rich wood floors only complete with itself."
The renovation converted a dated, cluttered space into a fully functional, airy kitchen—an eco-aware design that will stand the test of time.
Sources:
Designer/Architect: John Senhauser, FAIA, and Jane Keller—John Senhauser Architects, Cincinnati, OH; Manufacturers:
Dishwasher: Bosch;
Wall Oven: Thermador;
Warming Drawer: Dacor;
Cooktop: Wolf;
Refrigerator: Sub-Zero;
Countertop: Caesarstone;
Faucet: Hansgrohe Axor;
Sink: Blanco;
Paint: M.L. Campbell;
Photography: Scott Hisey of hmfoto