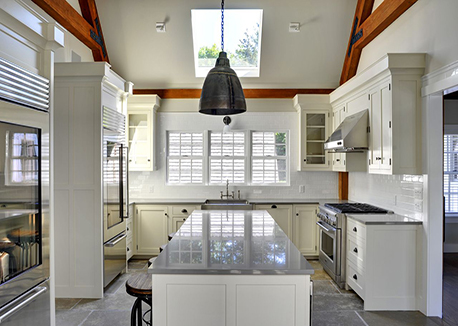 April 9, 2013
Potentially commuting to New York City, homebuyers in East Hampton, N.Y., will look for both efficiency and refuge in a kitchen and bathroom.  Creative director Jeffrey Rosen of Yankee Barn Homes catered to these prospective clients with a spec house inspired by both the natural and the urban.
"Our aesthetic was New England traditional barn with a twist," said Rosen. Along with regional influences, beach tones and natural materials drive the design, and "as always, a nod toward our roots – barn architecture," Rosen added. Built on a half-acre flag lot in a turn-of-the-century neighborhood, the house boasts a full lower level with 9-ft. ceilings, a one-bedroom guest apartment, gym, media room, secondary family room and a home office.
The structure of the post-and-beam house was first assembled before insulated wall panels were filled in. "This is much like traditional barn raising," said Rosen. Timber appears in most of the public rooms, including the kitchen, where a golden oak finish allows the natural texture to show through. "The timber structure adds a sense of age, dimension and texture," he added.
Aged materials give the kitchen its rustic feel. "I love the look of 'pre-dirted' materials," said Rosen. "They show no dirt or build-up of dirt over time." Installed in a traditionally random European pattern, the limestone floor "looks like it has been there for years and shows absolutely no grime," added Rosen.
Swedish repurposed industrial lighting fixtures embellish the floors' pastoral appeal. "They add the bang and contrast that says old," said Rosen. A bell-like lighting structure illuminates the island below, along with an above cupola – one of several skylights throughout the home. "At night, [the cupola] is illuminated – a beacon that bring the owners home," said Rosen. "During the day it adds light and is a focal point in the room."
Providing the backdrop, locally sourced, simple shaker panels make up the cabinetry, and pure white subway tiles line the remaining walls. "Tiles are installed to the height of the upper cabinets, much like kitchen from the 1920s," said Rosen. Quartzite countertops correspond with the kitchen's neutral tones, while stainless steel appliances give the space weight, contrast and functionality. "The kitchen is special to me as it allows for so many functions within one room," said Rosen.
Complementing the kitchen's traditional design, all the bathrooms in the house achieve a classical look using similar materials. "I like bathrooms to feel both current, natural and timeless," said Rosen. Pure white subway tiles echo the kitchen design, along with natural materials like tumbled crema marfil marble on the floor. Made of slabs finished with honed crema marfil stone, under-mounted bathtubs match the walls and floors. 
"The medicine cabinets are custom, echoing a traditional look and allowing maximum storage," said Rosen. Rubbed-bronze fittings accent the crème and white foundations in both the vanity hardware and the plumbing fixtures.
"This is a new house meant to look old," he said. In between the aged materials, energy is conserved and the design kept current with insulated panels and implemented smart wiring technology. Rosen explained, "The house wants to embrace the New England tradition yet encompass all the current day requirements for a second or third home."
SOURCES

Designer: Jeffrey Rosen ⎯⎯ Yankee Barn Homes; Construction: Mingino/Rosen Builders; Tiles: American Olean; Plumbing fittings: Delta; Plumbing Fixtures: American Standard and Porcher; Bathtub: American Standard; Kitchen Cabinetry: Crown Point Cabinetry; Cabinetry Finish: Farrell and Ball; Kitchen Appliances: GE and Subzero; Photography: Yankee Barn Homes