Dwell on Design LA Returns to the Los Angeles Convention Center June 24-26
---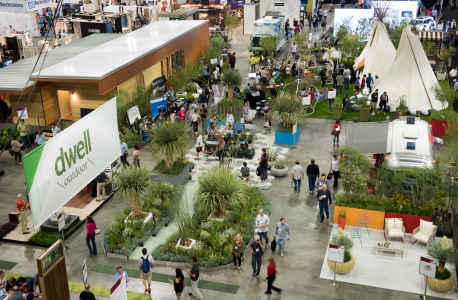 March 18, 2016
Dwell On Design LA returns to the Los Angeles Convention Center June 24-26, 2016. Welcoming more than 30,000 attendees in 2015, this year, Dwell on Design offers three days of new programming and features products and furnishings from upwards of 400 exhibitors, new pavilions and educational programming with more than 250 different design leaders.
The Modern Family Pavilion returns with family-friendly games and activities for the younger designers-to-be, while the expansive Dwell Outdoor Pavilion will cover over 30,000 sq. ft. of outdoor design. The all-new Prime Edition + Prototype Pavilion debuts as the marketplace for independent designers to showcase their product prototypes and addresses new ideas and resolutions for the residential design market while showcasing emerging talent. Additional new pavilions will include the Greenbuild Pavilion.
This year's core content for DODLA will focus on Healthy Architecture, the Business of Design, Smart Home and the Nice Modernist and offer more than 25 talks by various speakers throughout the weekend. The range of topics includes: "Affordable Housing Meets European Style Sustainability," "The New Prerequisites for Designers," "Guerrilla Public Service: Redesigning the City," "Chargeable Furniture," "The New Urban Farm," "Eco-Unconscious: Regulation Energy Consumption with Smart Tech" and "Shared Offices and the Future of Work." The popular Restaurant & Design Awards, (AIA) sponsored by Astek, will return, honoring quality and greatness in bars, lounges and nightclubs throughout North America. 
Dwell On Design welcomes TOYOTA as its new premier sponsor and AGS Stainless, TOTO MTA and Astek as returning sponsors. New Exhibitors include, Adam Raiola, Ann 330 Gallery, At Aroma Co., Benjamin Moore Paints, Curio Design, Gary Sinise Foundation, MOO, MTI Baths, RAD Furniture, Resysta, Sonoma Forge and The World Effect. Returning Exhibitors include Astek Wall Coverings, Big Ass Solutions, Casoro Jewelry, Ceilum Ceiling Tiles, Deacero, Duravit, EOS Surfaces, Ergotron, fail, Gem International, Infinity Drain, Isobell Designs, Light in Art, Marvin Windows and Doors, Nana Wall Systems, Otto Trading, Rabbit Air, Solar City, The Shade Store, TOTO USA and Vissoni.