LUXE Linear Drains Announces 2015 Project Photo Contest
---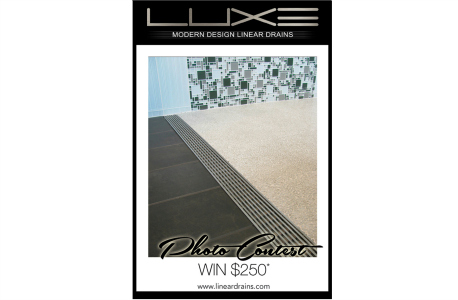 October 16, 2015
Love your beautiful new shower featuring a LUXE Linear Drain? Want to win a $250 American Express gift card? It's simple, just enter your project in the LUXE Linear Drain Photo Contest, and you could win! There are no restrictions on who may enter. The contest is open to homeowners, architects, contractors, interior designers, builders, remodelers, tile and stone professionals, plumbing engineers, installers and more.   
Photos can be submitted through the Photo Contest tab found on the LUXE Linear Drains website or sent to sales@luxelineardrains.com. 
One winner will be selected to receive a $250 American Express gift card, and up to 10 finalists will also be selected to win $50 American Express gift cards. The submission deadline is December 31, 2015. Winners will be notified by January 31, 2016.