Allison Lorelli Promoted to Business Development Manager at Oasis Showrooms
---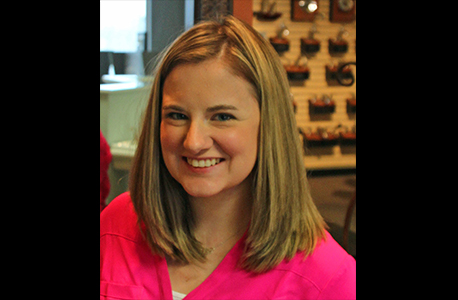 August 27, 2015
Oasis Showrooms and The Beautiful Bath Showroom, divisions of APR Supply Co (APR), announced the promotion of Allison Lorelli to Business Development Manager. She will be responsible for leading the growth of the showroom business for the Western Region of APR.

"Allison is a bright and talented designer, as well as a tremendous salesperson. She understands the customer, and we are thrilled to promote her to this important position," said Jeff MacDowell, vice president of marketing and emerging markets.
Allison joined Oasis in 2012 when Folcarelli Plumbing Supply was acquired, and quickly rose to performing as the top writing salesperson for the showrooms in 2015. 

Allison Lorelli was the showroom inside salesperson from 2012 to August 2015. She graduated Summa Cum Laude with a Bachelor's of Science in interior design from Indiana University of Pennsylvania (IUP), in the Cook Honors College. Lorelli is nominated to become the secretary for the Susquehanna Valley Chapter of the NKBA (National Kitchen and Bath Association) in 2016. She has accreditation as a Certified Age-in-Place Specialist (CAPS).