Amana Launches New Logo and "Just Right" Campaign
---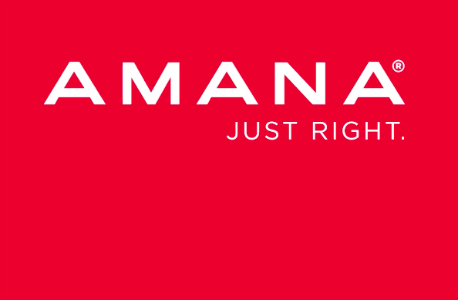 March 2, 2016
Amana brand is unveiling a new logo across its product lines for the first time in more than 80 years. The brand known for inventing the first consumer microwave has become an authority on value appliances, with priced-right, easy-to-use, quality products.   
The evolution of the new logo's design reinforces Amana brand's position and aligns with what the brand stands for and delivers today: simplicity, quality and value. Additionally, the logo's streamlined and modernized look improves its legibility and appeal on the sales floor. 
The new logo also complements Amana brand's tagline: Just Right. Launched in 2015, the tagline represents the brand's core pillars and communicates with the value. This sensibility is featured on the new campaign website, JustRight.Amana.com and incorporated in the latest model lineup. 
"We are proud of Amana brand's 80 years of innovation," said Bill Beck, vice president of brand marketing. "We looked at what the Amana consumer truly wants in a home appliance and used it as inspiration for the future of the brand, from the design of the new logo to the thoughtful product features."