American Standard, DXV and GROHE Launch the Beauty in Motion Mobile Experience
---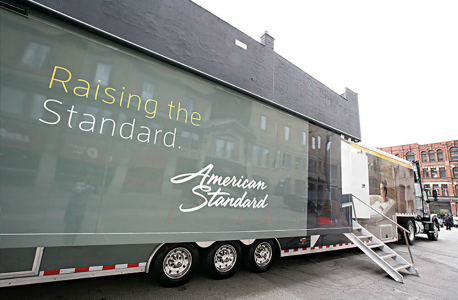 June 23, 2016
American Standard, DXV, and GROHE — the kitchen and bath brands that comprise LIXIL Water Technology Americas — have teamed up to create the Beauty in Motion mobile experience. This exhibit-on-wheels, showcased in two tractor trailers touring the country, creatively displays the standout solutions from each of these industry leaders. The tour began in New York City at the International Contemporary Furniture Fair (ICFF) in May and will visit select cities in the United States through March 2017.
"The Beauty in Motion tour is a celebration of the numerous designs and collections introduced this year by American Standard, DXV, and GROHE for today's homes," said Maha El Kharbotly, chief marketing officer for LIXIL Water Technology Americas. "This traveling showroom approach is a method to promote the newest additions to the LIXIL portfolio. There is no better way to give showroom associates, trade professionals and interior designers across the country full access to see, touch, and try the products in person."
Many of the bath and kitchen faucets, toilets, hand showers and showerheads on display are working models, allowing visitors to experience a wide variety of products firsthand.
Here's a look at leading products featured in the "Beauty in Motion" exhibit from each of the brands:
For American Standard, the spotlight is on a selection of intuitive new kitchen faucets, while attention is also given to the Coastal freestanding soaking tub. The mobile exhibit showcases the VorMax flushing technology that delivers a clean flush as well as the new H2Option dual-flush ultra-high-efficiency toilet. 
DXV by American Standard selections blend the artisanal character of the past with the aesthetic and performance sensibilities of today. Among the highlights from this is the SpaLet AT200 dual-flush smart toilet. DXV also showcases opulent freestanding soaking tubs in this exhibit with the minimalist Lyndon Collection in the 44-ft. mobile showroom and the Golden Age-inspired Fitzgerald Collection in the 49-ft. exhibit. Models from each of the DXV lavatory and kitchen faucet collections will also be highlighted in the showrooms.
GROHE adds to the assortment with the brand's K7 and LadyLux3 kitchen faucets, both of which available as hands-free options that feature Foot Control Technology. Additional product highlights include the Minta Touch Generation 2 faucet, with EasyTouch technology. For the bathroom, the Retro-Fit transforms an existing shower into a luxurious shower system with a showerhead and hand shower ─ the system can be installed without breaking the wall in one hour or less.
To stay apprised of the tour's local visits, you can follow the brand's social media channels where posts will be tagged with #BeautyInMotionTour.