Axor Introduces Latest Collaborations with Antonio Citterio
---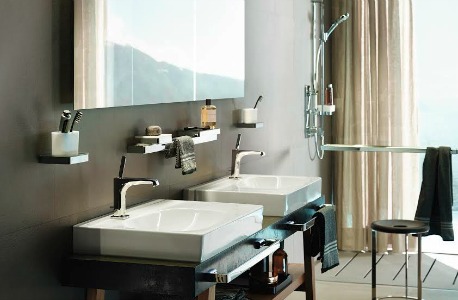 November 6, 2015
Longtime collaborator with the Axor brand, Antonio Citterio, is once again bringing his architectural aesthetic to the bath with his third line for the brand, the Axor Citterio E collection. Citterio worked hand in hand with the head of the Axor brand, Philippe Grohe, to create the line of faucets and shower components, which launched in NY in October. 
"Our partnership with Antonio Citterio began 14 years ago," said Philippe Grohe. "The new Axor Citterio E collection is a charming combination of modern and classic features – elegant and timeless products of the highest quality that not only enhance the bathroom as a whole, but also our experience with the element of water."
"The result of this most recent collaboration is the 'essence of luxury,'" added Citterio. "The products are not only characterized by flexible implementation, but also by exceptional ease of use and a pleasant touch and feel."
Products of the Axor Citterio E collection will be available in custom finishes upon request, such as brushed gold, in 2016.