Custom Building Products Launches App
---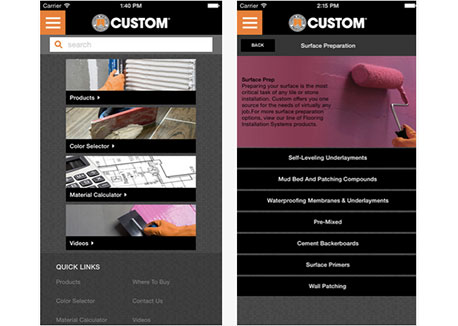 April 28, 2015
Custom Building Products launched a new interactive mobile app that provides contractors, specifiers, architects, designers, distributors, retailers and homeowners easy access to comprehensive product information. Available on iOS and Android operating systems, the CUSTOM mobile app is a resource for selecting the right product for installing, protecting and maintaining tile and stone.
"We designed this digital resource to make it even easier for our customers to access product selection and usage information from their preferred mobile device," said Anthony Pasquarelli, director of marketing services for Custom Building Products. "The intuitive navigation leads users directly to critical details like technical data sheets, grout color options, and coverage calculators. The mobile app also has a search function to expedite finding specific products. In addition, it provides direct access to CUSTOM's educational tools and videos that will help ensure users are selecting the best product for a specific application and installing it correctly. Ultimately, our goal with the mobile app is to help our customers save time."
Mobile App Features Include:
Products: descriptions with features and benefits; technical data sheets and material safety data sheets that can be downloaded or e-mailed to the user or shared with an associate
Color Selector: color options for all of CUSTOM's grouts
Material Calculator: helps users determine the correct amount of surface prep material, setting material and grout based on surface area, tile and stone dimensions and grout joint thickness. This tool allows for more precise calculations based on the unique attributes of the tile installation.
Videos: CUSTOM's video library including its Top 5 Tips series
Where to Buy: geo-targeted locations that sell CUSTOM and Aqua Mix products
Contact Us: one-touch access to customer service and technical support by phone and email
Search: product identification and access based on key search terms.