Duravit USA Launches Newly-Designed Website
---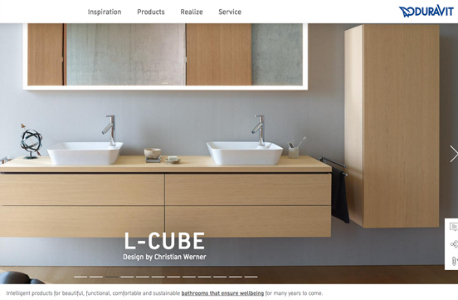 December 25, 2015
Duravit USA has enhanced its website – www.duravit.us – making its bathroom designs even more accessible to consumers and the design industry at large. Offering a modern, interactive resource for those embarking on a bathroom design project, the platform is an easy-to-navigate tool that brings users into the Duravit world by offering information on product, lifestyle and trends. 
The website's new design puts images front and center, with its layout and style adapted from Duravit's Badmagazin product and lifestyle publication. Large-format images, infographics and style recommendations provide an introduction to Duravit's many collections. The website is also designed to be responsive and adapts to different display formats, including tablets and mobile devices. 
Notable features include the website's magazine section, product portfolio and virtual notepad, which allow users to save products or articles of interest. The new landing page rotates to showcase Duravit's latest innovations, while also providing easy access to the website's primary categorized pages: Inspiration, Products, Realize and Service. This full suite of services guides customers through the complete design process, from brainstorming to selecting their final products. 
"By expanding the Duravit website, we are bringing visitors into our world and sharing with them first-hand the 'living bathrooms' experience," said Duravit USA President Tim Schroeder. "Users are now able to get a complete overview of our brand, while taking advantage of practical new resources to suit their style preferences and applications."
The website not only provides enhanced browsing capabilities, but also directs attention to Duravit's 200 years of rich history, which includes dedication to sustainability, designer discovery, and material innovation. Pro.duravit.us is an additional pure B2B platform Duravit offers for planners, architects and craftsmen. It provides business partners with content and functions in support of their daily work. The updated website also provides easy access to this service.