Hansgrohe Becomes Second Title Sponsor in International Competitive Cycling
---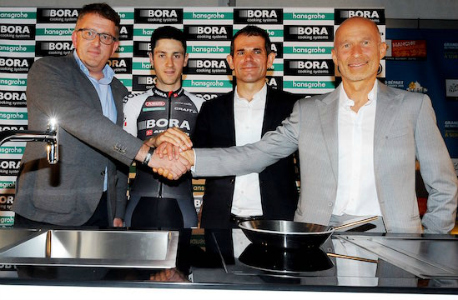 July 15, 2016
As the 3,525-km. Tour de France cycling race continues, Hansgrohe is part of the action! At the Tour de France's 2016 Press Conference, the Hansgrohe Group announced that it will join BORA in its sponsorship of the German UCI ProContinental cycling team. Beginning in 2017, the team will compete under the name BORA-Hansgrohe, and as a benefit of the upcoming collaboration, the Hansgrohe logo is featured on the team's official Tour de France jersey this year. 
"We look forward to a successful cooperative venture with BORA and the team and hope to also be able to further reinforce Hansgrohe's presence vis-à-vis end consumers in the kitchen segment," said Thorsten Klapproth, chairman of the executive of Hansgrohe SE.
Beginning January 1, 2017, the BORA-hansgrohe team will compete in more than 25 races across the globe, including the Tour de France. The Hansgrohe Group has been engaged in athletic sponsorship for many years, endorsing and supporting numerous athletes on a regional scale, and the company was actively engaged in competitive cycling as a sponsor of the Hansgrohe Superprestige in Belgium.