Hassle Free Home Improvements Opens Showroom in Damascus, Maryland
---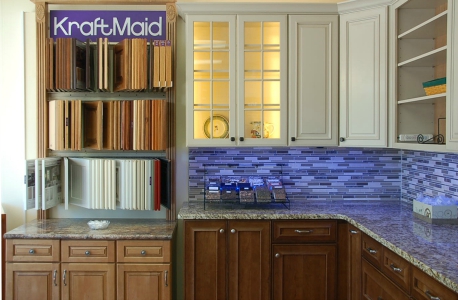 September 7, 2015
Hassle Free Home Improvements, Inc., a home remodeler serving Montgomery County and surrounding areas since 2003, has unveiled a new showroom in Damascus, Maryland. Now open, the showroom will allow the award-winning home remodeler to provide its customers with a first-hand look at some of the latest trends and styles in home design.
The new showroom features sample home building materials and displays from vendors, as well as a mock-up bathroom, kitchens, deck/porch and façade. Customers can check out tiles, stone countertops, cabinets, lighting, flooring, windows, siding, doors, rails and more, spanning a variety of styles and designs. In addition, customers have the convenience of ordering directly from the showroom and interacting with the Hassle Free Home Improvements remodeling experts.
"For years, people have asked me if we have a showroom," said Mickey Taff, founder and president of Hassle Free Home Improvements. "Our new showroom will help us take our service to the next level. We are looking forward to working with our customers, past and present, as we make this showroom our new home."
A two-level building, the lower level serves as the Hassle Free Home Improvements office headquarters with additional storage space, and the upper level serves mainly as the showroom. Featured vendors include Wellborn, KraftMaid, Trex, EverGrain, Mastic, James Hardie, Jeld Wen, Simonton, Therma-Tru, Provia and Benjamin Moore.
The Hassle Free Home Improvements showroom is located at 26218 Ridge Rd., Damascus, Maryland 20872.