LUXE Linear Drains Announces Project Photo Contest Winner
---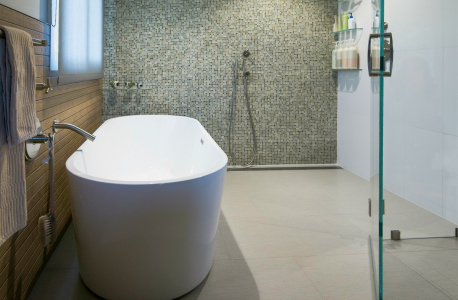 April 20, 2016
LUXE Linear Drains has announced the winner of its annual shower design project photo contest. Hammerschmidt Construction, Inc. has taken home the $250 AMEX gift card grand prize for a beautiful barrier-free entry LUXE Linear Drains custom shower for a classic 1950s style California ranch in the heart of the Silicon Valley.
Hammerschmidt Construction's winning photo was chosen by a panel of judges from the more than 100 entries that arrived from around the country. In addition to the grand prize winner, LUXE Linear Drains also recognized a group of 10 finalists with $50 AMEX gift cards. 
"It gets harder and harder each year to choose just one winner," said Joe Phillips, president of LUXE Linear Drains. "The level of imagination, creativity and craftsmanship that we saw this year was truly inspiring for us. We would definitely like to thank Hammerschmidt Construction and everyone that participated and helped make the contest a complete success."
Hammerschmidt Construction's winning photo features LUXE Linear Drains 100 percent stainless steel pattern grate drain in a modern custom bath that incorporates barrier-free, zero-threshold shower entry design. The new shower in this Sunnyvale home outside San Francisco is anchored by a pair of 48-in. pattern grate LUXE Linear Drains that combine to stretch perfectly across the length of the far back wall below the multicolor mosaic tile design feature. Hammerschmidt Construction's program also includes large-format thin porcelain tiles for both the floors and walls. The new bath uses three different styles of tile produced in Spain by PORCELANOSA to create a warm, sophisticated space. The wetroom design is further accented by a gorgeous free-standing tub from Blu Bathworks in Vancouver, Canada.