Neiman Marcus CEO to Keynote GlobalShop 2016
---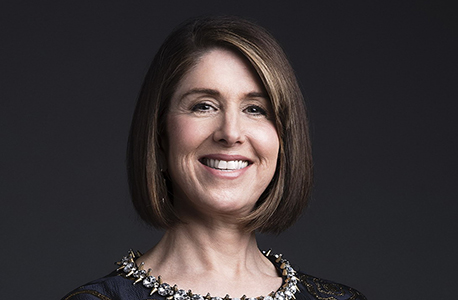 September 29, 2015
GlobalShop recently announced that Karen Katz, president and CEO of Neiman Marcus Group, will keynote GlobalShop 2016, to be held March 23-25 at Mandalay Bay Convention Center in Las Vegas. Katz and Ignaz Gorischek, vice president of creative and design for Neiman Marcus, Last Call and CUSP, will participate in a fireside chat with PAVE President Harry Cunningham. GlobalShop will donate all proceeds from the session to PAVE, to support student engagement in the field of retail design and planning and visual merchandising.
Katz oversees the strategic direction, operations and expansion of Neiman Marcus Group (NMG), an omnichannel retailer that operates 41 Neiman Marcus stores, Bergdorf-Goodman in New York, the Last Call off-price division and CUSP, as well as Neiman Marcus online. With sales of approximately $5 billion, NMG employs more than 15,000 associates nationwide. Under Katz, the company has embarked on a modernization strategy with an emphasis on technology. Katz was recently cited by Forbes magazine as the No. 1 reason NMG's upcoming IPO is likely to be a success.
As the vice president of creative and design for Neiman Marcus stores, Gorischek currently manages a team of professionals that includes designers, color and material specialists, renderers, cad specialist, graphic designers, visual merchandisers, corporate art curator and creative merchandisers. In his role, he also works with leading retail design firms representing projects that include major and minor remodels, new stores and new store concepts. Gorischek has worked on and opened 17 full-line Neiman Marcus stores, 10 Last Call stores and six CUSP stores.
In addition to his role as president of PAVE, Cunningham currently is head of store development for Vera Bradley, He has nearly 25 years of experience in store design and visual merchandising. Prior to joining Vera Bradley, he was senior vice president of store planning, design and visual merchandising at Saks Fifth Avenue. "Not only will attendees be getting great insight into a leading retailer's perspectives, but they will be making a contribution themselves as well—to the next generation of retail planners and visual merchandisers through the purchase of their ticket and GlobalShop's generous donation to PAVE," Cunningham said.
Both Cunningham and Gorischek hold the honor of receiving design:retail's distinguished Markopoulos Award, which recognizes outstanding achievement and contributions in visual merchandising and store design.
Katz and Gorischek will speak in-depth to Cunningham about Neiman Marcus' upcoming expansions and renovations, including a new store in New York's Hudson Yards, and about technology and its impact on store design. To engage the greater GlobalShop community, questions will be solicited and selected in advance from GlobalShop and PAVE's social media channels. Follow @GlobalShopShow and @PAVEorg for more information.
"Attendees are sure to leave with real insight into the luxury retail market," said Doug Hope, founder and show director of GlobalShop. "We are delighted to bring Karen Katz and Ignaz Gorischek to GlobalShop to share their insight and predictions on the next phases of retail design. From new store construction, to renovations, to technology integration, Neiman Marcus is leading the industry in many ways."