SieMatic Hosts Annual Forum at Headquarters in Germany
---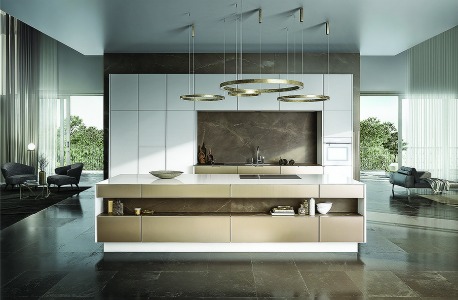 December 11, 2015
SieMatic brought together for the first time all three of its designer kitchen style collections – PURE, URBAN and CLASSIC – under the same roof at SieMatic Forum 2015. The, event held at SieMatic headquarters in Löhne, Germany each autumn, provides information to the international community of kitchen specialists, interior designers and journalists. Highlighted this year were the planning principles behind the three distinct lifestyle collections.
"SieMatic Forum was an outstanding platform to contrast the collections' modern, cosmopolitan and classic design themes," said Hans Henkes, president and CEO of SieMatic Möbelwerke USA. "Each one of the themes provides designers with a toolbox to create better, more stylish and functional designs that reflect the way people want to live in today's kitchen." 
The PURE collection features delicate frames, metallic materials, sophisticated wood, and nuanced lacquer hues. Inspired by the creativitiy of city dwellers, the URBAN collection offers an unconventional contrast between carefully selected objects, standalone units and intuitive combinations of thematic opposites. Its signature element is the freestanding "solitaire" SieMatic 29 kitchen sideboard, a tribute to the company's founding in 1929. Combining classic detail with modern sensibility, the CLASSIC collection provides a mix of materials including glass and stainless steel as well as various aluminum and stainless steel cabinet models in matt, brushed or glossy finish.
Rounding out the PURE, URBAN, and CLASSIC style collections exhibited at SieMatic Forum 2015 were the SieMatic aluminum interior accessories, which showcased a marriage of cabinet and drawer interiors with exterior aesthetics.