ThermaSol Introduces its 24/7 Solution Center
---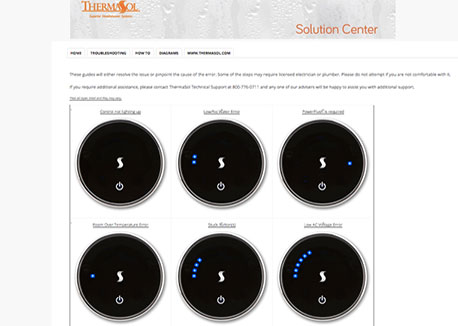 January 27, 2015
ThermaSol has announced additional means of technical help and instruction to both homeowners and installers. They have introduced the ThermaSol Solution Center, an online destination that provides help in a number of formats 24/7. The Customer Service page on ThermaSol's website now has an easily identifiable banner that brings people right to the Solution Center on the site. They can also go directly to www.thermasol.com/solution.
The Solution Center offers a variety of virtual how-to's and tutorials; from setting up the clock or making sure the system is set up and ready to go, to more detailed instruction on setting up preset user settings for steam only installation. Homeowners can quickly learn how to stream music via Bluetooth, and they can easily learn how to change the temperature scale from Fahrenheit to Celsius.
For installers, the ThermaSol Solution Center offers detailed instructions on the right tools needed for installation, how to properly size the generator, troubleshooting for any of the controllers (including their new MicroTouch), diagrams outlining parts and electric set-ups. They too can learn how to set up the system for the homeowner, which is especially useful if they want the steam system to be set up and "ready" for its first in-home use.
"We know that time is a limited resource for everyone, and we wanted to provide our customers with the best possible customer service, no matter what time of day or time zone," said Martin Siwy, vice president, sales + marketing for ThermaSol. "We continue to offer phone support of course, but with the ThermaSolSolution Center, homeowners and installers can very easily be helped when it's convenient for them. This new visual approach helps our Technical Advisors to be much more efficient. It cuts down on both time and room for error when someone has to explain why they are calling, and that was especially important for us."