Capturing Coverings
---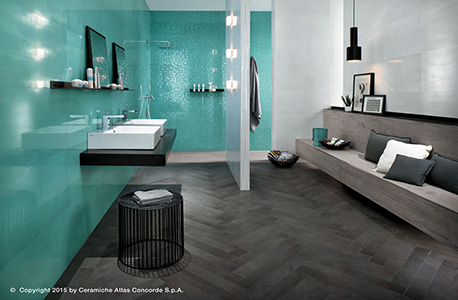 April 21, 2016
KBB just returned from a press trip to Coverings 2016, the global tile and stone trade show held April 18-21 in Chicago. What an expansive event! I have never seen so much tile in one place and was unaware until now just how many choices are actually available.
We were hosted by National Trade Productions, as well as the Tile Council of North America, Ceramics of Italy and Tile of Spain, and visited booths and exhibitors in those three pavilions. The range of styles, materials, colors and patterns was extensive, but we did notice a few themes that resonated with all three regions.
– Metallic elements are taking off, whether they are barely noticeable with just a shimmer or in-your-face loud.
– Today's tile is all about emulating natural or natural-like materials such as chalkboards, concrete, wood, brick, fabric, water, sand, flowers and marble.
– White was predominant at the show, although some manufacturers are taking some necessary risks with everything from simple splashes to bold colors, such as Atlas Concorde's Dwell pictured above.
– It seemed everyone wanted to try their hand at their own version of Calacatta; an industry and consumer favorite.
– Many booths were covered in tile, from the flooring to the furniture, creatively using the space to display more than just a few collections.
In addition to learning about different kinds of stone and tile from a myriad of experts, we participated in mosaic making with the Chicago Mosaic School; witnessed the School of Art Institute students' tiled benches; attended the CID Awards & Opening Night Celebration, which recognized outstanding achievements in the design and installation of tile and stone in residential and commercial projects; and were invited to a wonderful dinner at The Boarding House.
Thanks again to our hosts and facilitators for a wonderful experience at Coverings 2016.