DIFFA's "Dining By Design" Showcases Creativity in Effort to Combat HIV/AIDS
---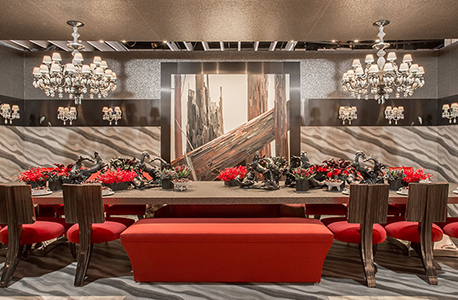 March 24, 2016
Design Industries Foundation Fighting AIDS (DIFFA) returned to Pier 92 for its 19th-annual DINING BY DESIGN fundraiser during the Architectural Digest Design Show at Pier 94 March 17-20. This highly anticipated four-day function is DIFFA's marquee event in support of its mission to raise funds (approximately $800K annually) for HIV/AIDS prevention, education and direct care.
View a gallery of entries here.
"Dining by Design is an opportunity to bring the design community together to spread love and bring hope to so many people," said Cindy Allen, DIFFA's board chair and editor-in-chief at Interior Design magazine. "This extraordinary event gathers today's most creative design visionaries who bring their talent and passion to the table to support a great cause."
This year DBD featured an array of stunning tabletop designs from more than 30 local and international designers, architects, manufacturers and retail brands.
Since its founding in 1984, DIFFA has emerged from a grassroots organization into a national foundation based in NYC with chapters and community partners across the country that have provided more than $41 million to hundreds of HIV/AIDS organizations worldwide. Visit www.diffa.org to learn more.