Getting Creative with National Pride
---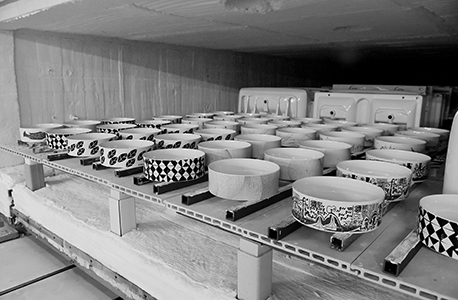 October 9, 2015
First started in 2014, the Impressões by Laufen project aspires to take the simple washbasin and make something unique, functional and sustainable. This second edition of the project brought together 10 designers and architects to present their interpretations of the theme "Brazil Up Close" as exclusive pieces for Laufen.
View a gallery of the sinks here.
Recently taking place at DesignJunction in London , the project remembered artist Marcel Duchamp, who is known for bringing everyday objects to the art field. Artists include Antônio Ferreira Jr. and Mário Celso Bernardes; Arthur Casas; Christian Cravo; Derlon Almeida; Jader Almeida; João Armentano; Marko Brajovic; Patricia Anastassiadis; Ricardo Bello Dias and Ronaldo Fraga.
Given round SaphirKeramik washbasins from Laufen, the artists were charged with interpreting their Brazilian culture in the design. The SaphirKeramik ceramic material has a slimmer form but a strong build and was crafted by German designer Andreas Dimitriadis.
In total, five pieces of each will be produced – one is intended for the artist/designer, two for charity solutions selected by each of the participants, and two will be for the Laufen collection and for exhibitions worldwide. They will not be sold to the public.



About the Artists
Antonio Ferreira Jr. & Mario Celso Bernardes: Trained in architecture and urban planning, architects Antonio Ferreira Jr. and Mario Celso Bernardes formed a partnership in the early 1990s and have since completed more than 300 projects ranging from residential buildings, cultural spaces, commercial projects and corporate buildings.
Arthur Casas (Studio Arthur Casas): The studio's designers, architects and planners are divided between São Paulo and New York and have worked in cities around the world, including Tokyo, Paris and Rio de Janeiro.

Marko Brajovic: From architecture, set design, creative direction, interior and product design, multisensory installations, content, workshops and training, Marko Brajovic takes a multi-disciplinary approach to his work. Notable works include the set design of the Brazil Pavilion at EXPO Milan 2015 and a handmade design manual for store brand Camper Together.

Christian Cravo: Born in 1974 of a Danish mother and Brazilian father, photographer Christian Cravo was raised in an artistic environment in Salvador, Bahia. It was in Denmark as a teenager that he began experimenting with photographic techniques, returning to Brazil 22 years later.
Derlon Almeida: With a degree in social sciences, 30-year-old Derlon Almeida combines two genres of popular art – woodcut and street art – to develop a new form of urban graffiti art. Using a limited color palette of often contrasting hues, Almeida's style creates a symbiosis of urban art and folk art.
Jader Almeida: Jader Almeida has been interested and involved in the furniture manufacturing process from his teenage years. His experience in product design coupled with his architectural training has led to the production of pieces that have won awards and competitions both nationally and internationally.

João Armentano: São Paulo-based architect-in-training João Armentano is one of the most well-known names in interior design in Brazil. The work of Armentano includes creating emblematic spaces, such as hotels like Sofitel's Jequitimar.

Patricia Anastassiadis: Graduating in architecture from Mackenzie University, Patricia opened her office when she was 22 and has since completed commercial projects, corporate projects, hotels and real estate projects.

Ricardo Bello Dias: Italian-Brazilian architect Ricardo Bello Dias currently lives and works in Milan, Italy. His works includes designs for fashion stores, showrooms, furniture design, offices, private residences and hotels. The studio has executed projects in Western and Eastern Europe, North and South America and Africa.
Ronald Fraga: With a degree in fashion and a post-graduate from the Parsons School of New York and Saint Martins School of Art and Design in London, Ronaldo Fraga is one of the more renowned Brazilian designers. His creations establish a fluent dialogue between our [Brazilian] culture and the contemporary world, earning him recognition throughout Asia, Europe and America.