Matching the Next Hurricane Sandy
---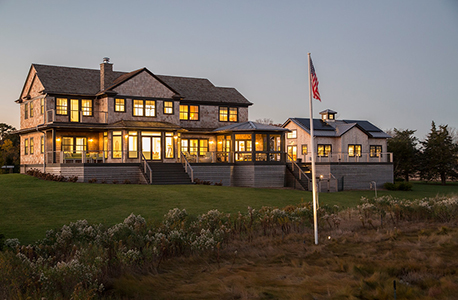 November 12, 2015
On October 29, 2012, Hurricane Sandy swept the northeastern shoreline and left New Jersey and New York battered. One 1940s cottage on Long Island, which sat five feet above sea level, could not withstand the storm. Homeowner Kim Erle, a LEED AP in the LEED for Homes green building program, set out to make sure that never happened again
View a photo gallery of this house here.
After the 80-mph hurricane passed, what was left was a "Substantially Damaged" home. This was the second time it was damaged; the first was in 2011 with Hurricane Irene. Erle decided to start fresh with a new build that complied with 21st-century building codes at a minimum of 12 feet above sea level. The new home was built at an elevation of 14 feet above sea level.
"Elevating the home an additional nine feet required creative thinking in terms of access and aesthetics," said Erle.
The home was built atop more than 100 pilings, with breakaway walls surrounding the garage underneath. The breakaway walls are intended to break off in a severe flood so floodwaters could pass under the house without damaging the structure. Specially designed windows also have laminated glass to maintain their exterior seal and resist breaking if hit by flying objects.
"A New York based interior designer and his team worked within the sustainability team's mandate to use 'green' technologies and materials, and they designed a kitchen that is as beautiful as it is green," explained Erle.
The Sunset Green Home is seeking LEED certification and has been designed to achieve LEED Platinum. Eco-friendly choices include the following:
– LED lighting is used throughout the home, as well as energy- and water-efficient appliances.
– A tight building envelope with added insulation allowed for smaller heating and cooling systems.
– Materials were chosen for sustainable characteristics, like recyclability or local production.
– Materials were chosen to ensure healthy air quality, like Sherwin-Williams' zero-VOC Harmony paint and CertainTeed's VOC-scavenging AirRenew gypsum board, as well as an energy-efficient mechanical ventilation system.
– Most of the furniture is upholstered in indoor/outdoor fabrics, which have a longer lifespan and will not fade.
– All of the floor coverings are 100 percent wool or cotton, eliminating the toxic polypropylene backing on traditional rugs.
The new 3,600-sq.-ft., five bedroom, 6.5-bath home with a pool and pool house far exceeds the design of the original home, plus LEED certification will save the homeowner about $15,000 over the next 10 years in property taxes.

Photos Credit of www.sunsetgreenhome.com