Off the Grid
---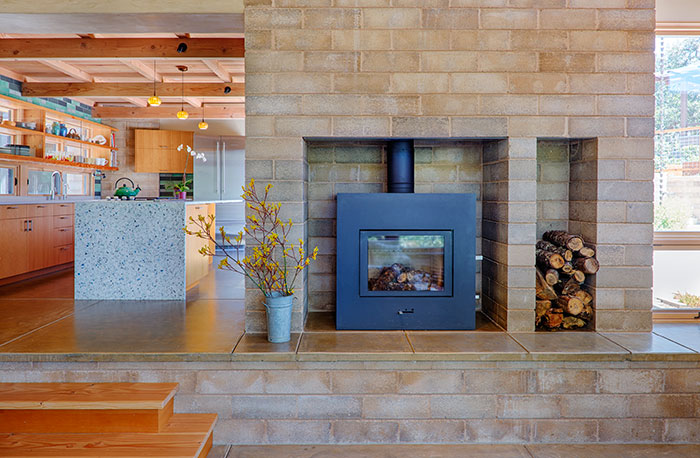 August 28, 2016
Along Porter Creek in rural Sonoma County, Calif., a hilltop location surrounded by trees needed a home that wouldn't hinder the environment around it. One family decided on this spot for a sustainable home where they could raise twin daughters with an appreciation of the natural world.
Vetrazzo, a company that makes sustainable surface materials out of recycled glass, selected this project and its designers, Berkeley, Calif.-based Arkin Tilt Architects, as the winners of its 2016 Vetrazzo Design Competition. KBB spoke with the firm and its principle, David Arkin, to find out his thoughts about the kitchen design.
View this gallery for more images and facts about the home.
KBB: What was your goal in this design?
DA: As a rural and off-the-grid project, this house and the kitchen in particular needed to be energy efficient and durable – and of course beautiful as well. We aimed to maximize daylight. With the kitchen serving as a link of sorts between the living/dining room and the uphill portion of the house, ample glass doors and windows to the east and west were used to minimize the need for electric lighting.
KBB: What challenges did you face, and what were your solutions?
DA: With the two end walls largely open to adjacent spaces, we had little opportunity for upper cabinets that would've otherwise blocked valued daylight.  Our solution was to install cabinets as a series of horizontal shelves in front of the windows, with sliding glass cabinet doors that allow for light and views.
Another challenge was the very visible end of the island facing the living and dining rooms, so we used a waterfall edge with the Vetrazzo countertop. This highlighted the material, in particular toward the living room, which is three steps lower than the kitchen and dining spaces.
KBB: What materials did you use in the kitchen? 
DA: The home features a large quantity of site-milled Douglas fir, including at the exposed structure of the kitchen ceiling, and the cabinetry and the glass-fronted shelves at the windows feature fir as well. The owners chose tiles from Heath Ceramics, and we complemented these with a 'Palladian Gray' Vetrazzo top at the island. Stainless steel appliances, an edge of the watershed (compressed earth) block chimney and a durable polished concrete floor complete the simple palette.
KBB: What was your favorite part of this design?
One of the most pleasing aspects of this home – aside from its thermal comfort and efficiency – is the way one views not only the natural surroundings but also other pieces of the house from nearly all of the interior spaces, the kitchen especially.  A roof deck above the kitchen provides a safe place for sleeping outdoors under the stars and that would be a very close second favorite.
Photography by  Ed Caldwell