Parisian Inspirations
---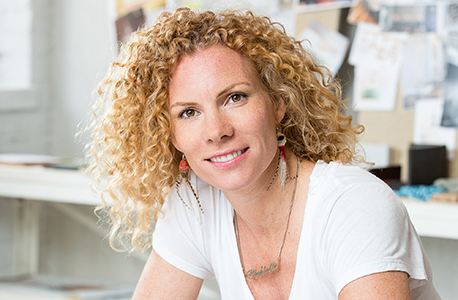 March 3, 2016
                                              Photo by Eric Kleinberg
Karen Herold, Chicago-based designer and principal of Studio K, has recently launched the Brasserie Collection, a ceramic tile line in collaboration with Sabine Hill. Drawing inspiration from her European roots, the collection is reminiscent of the mosaic patterns that found throughout brasseries in Paris – all done in a cost-effective way without compromising the natural look of the concrete and colors.

KBB spoke with Herold to find out more.


KBB: How did you come up with the design?
Herold: The design for the Brasserie Collection came naturally. I have been a big fan of these hydraulic tiles for years and have specified them many times for our restaurant designs. Often times the design itself doesn't lend itself to more contemporary spaces, as they tend to give off a more traditional Mexican or Portuguese design style, so we decided to use this old world technique with a completely new aesthetic.

   
                      Amelie

KBB: From where did the inspiration for the design come?
Herold: At the time we working on a French-inspired restaurant, and I was looking for flooring options. The mosaics typically used in traditional brasseries were priced far outside our budget, and so we came up with this idea of creating our own "mosaic" using these large concrete tiles.



                     Juliette
KBB: How does this go along with your design work?
Herold: Most of the designs I create are rooted in the old world but curated with a current twist. I like materials that change with us over time like wood and leather, and these tiles are no different. They will patina over the years and only get better with time. 

KBB: What advice would you give another designer who wants to start his or her own line?
Herold: Always work on something that you are passionate about. It is good to have an idea about what the market wants or how much your product might be on trend, but I believe that it is most important to create a timeless product that speaks to you.

Karen Herold started her career in design when she moved to Chicago from Amsterdam 15 years ago and began working at 555 International. After 13 years at 555, she started her own multidisciplinary creative house, Studio K, in early 2014. Herold's creations are both timeless and eclectic and never trend driven. She travels often and believes that inspiration can be found in the most unlikely of places and experiences.


                               Madeline