The Charm of the South
---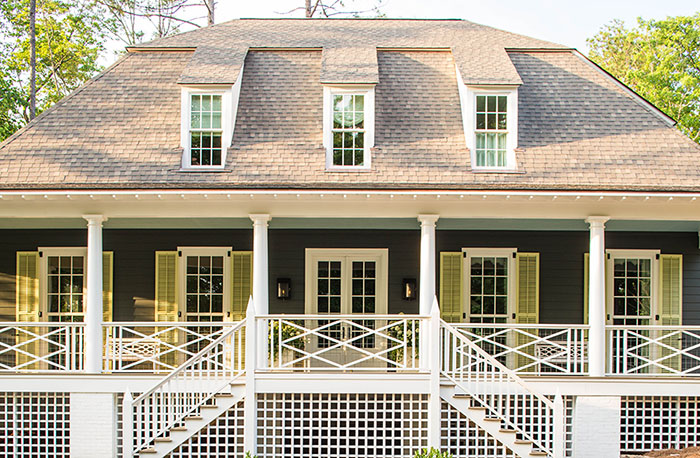 August 18, 2016
For more than 20 years, Southern Living has built or renovated idea houses to showcase traditional design and stunning landscaping – all evoking the idea of Southern hospitality. The 2016 Idea House is set in Mt. Laurel outside of Birmingham, Ala., and the overall design was led by Birmingham architect, Bill Ingram.
Designers Amy Berry of Dallas-based Amy Berry Design; Ashley Gilbreath of Montgomery; Ala.-based Ashley Gilbreath Interior Design; Lauren Liess of Oakton, Va.-based Lauren Liess Interior Design; Margaret Kirkland of Atlanta-based Margaret Kirkland Interior; and Mark D. Sikes of Hollywood, Calif.-based Mark D. Sikes completed the interiors – all inspired by different decades in the magazine's history.
View a gallery of the idea house here.
The home itself sits elevated on a corner lot and features wide wraparound porches for a view of the surrounding landscape. Inside, the entrance opens into a wide center hall outfitted with a traditional Southern style updated with modern touches.
"My favorite part of this particular Idea House was working with the multiple designers and our design team, including the builder, architect and developer," said Misty Chandler, marketing manager at Southern Living, adding that the timeline of the project – about five months – was the biggest challenge for the team. "Southern Living has always worked with one designer on our Idea House projects. This year it was fun to have different design styles and ideas."
The Idea House will be open to the public through December 18th, 2016. During that time, tours are open at the home from 10 a.m. to 4 p.m. Wednesdays through Saturdays and from noon to 4 p.m. on Sundays. Admission is $15 at the door.
Sponsors of the 2016 Southern Living House
Alabama Tourism Department
Ballard Designs
Belgard
Delta
Haiku Home
InSinkErator
James Hardie Siding and Trim
Lennox Industries
Marvin Windows and Doors
The Sherwin-Williams Company
The Southern Living Collection at Dillards
Southern Living Plant Collection
Thermador