Two-Story Showroom
---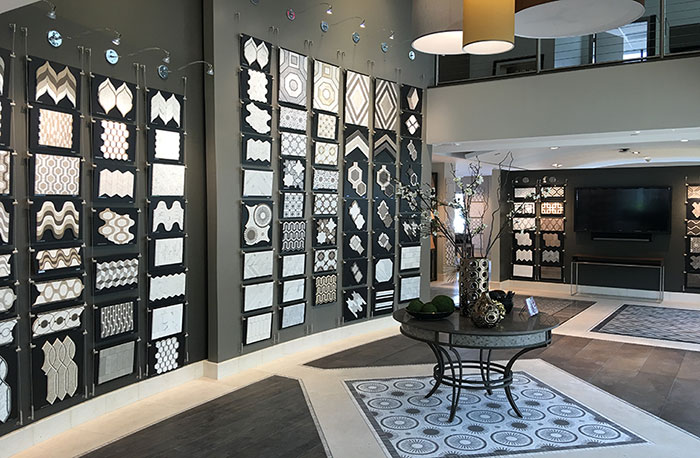 August 5, 2016
After outgrowing its space in Mt. Vernon, N.Y., Walker Zanger has opened a new tile showroom and slab gallery in Port Chester, N.Y. Now with 4,200 square feet of showroom and a 14,000-sq.-ft. slab gallery, the company's new facility plays up its high ceilings and lofty entrance for a striking sense of arrival and display.
View this showroom gallery here.
Drawing the Client In
Giving a potential client a good and memorable first impression is essential in showroom design. For the Port Chester location, the lobby boasts a two-story space showcasing the newest and most popular products.
"The soaring space is flooded with light," said Kim Bernard, Walker Zanger's executive director of facilities design.
These highlighted products are organized into zones by each product category: stone, porcelain, ceramic and specialty stone. Even the actual floors feature the tile, with some patterns laid out in diagonal or rug-like shapes. Above, a three-pendant chandelier in neutral colors illuminates the space with a warm light.
"Each one of our showrooms has something architecturally unique," said Bernard. "In this location, it is both the two-story entry space as well as the curved ceilings in each showroom zone."
Beyond the entrance, lifestyle vignettes display how products can be mixed to convey a snapshot of what an actual room might look like. The sales staff is available throughout the space, and a small conference room offers a quiet area for designers to review projects or meet with clients. A bathroom was also added to the lower level – not just to accommodate local codes but also to serve as a second working display.
"Our old location was so restrictive in its showroom space that this new Port Chester location not only provides more display area but also more sample inventory," said Bernard.
Working Space
Along with more room for inventory, the new location had the potential for more functional office space – except that the original layout was completely unsuitable for the company and the times.
"The entire building was a rabbit warren of offices and small closets," said Bernard, explaining how they fixed the issue by opening the spaces upstairs to allow for a common work area and kept three private offices intact.
The original lunchroom was moved from downstairs to upstairs to allow for more showroom space on the first level. Plus, its location at the perimeter of the building takes advantage of the outside views. A set of double French doors with glass panels allows light to pass through the hall and into the nearby conference room, which has windows along one entire wall. This wall of windows is part of a larger window series that covers the front of the building, with each at a 36-in. sill height for both the upstairs and down.
"This created some challenges since all those windows take away from product display," said Bernard. "In response, we placed the showroom sales group in one corner – surrounded by windows – so that we could have the majority of product displayed toward the back of the facility and also use curbs below the windows as a display space."
The facility additionally features upgraded LED lighting, arched ceilings and soffits to increase the feel of the space – as well as an overall better location.
"This move allowed Walker Zanger to have improved efficiencies for handling and displaying slabs, to increase the showroom square footage and to be centrally located in Westchester County," said Bernard.