Up Close and Personal Curated Design
---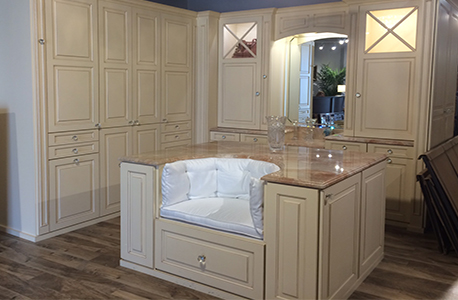 April 29, 2016
DESIGN ADAC 2016 took place last week at the Atlanta Decorative Arts Center. The tagline for the four-day event – sponsored by Veranda – was "Where Design Is Personal," and industry professionals spoke on a variety of topics where customization and personalization were key. 
ADAC touts itself as the design center of the Southeast for residential and contract furnishings in 60 showrooms, and some relevant kitchen and bath influence is seen here as well. KBB was in attendance for some hand-selected presentations during Design ADAC, toured some of the showrooms and met some of the professionals who are represented at ADAC. 
Barbara Barry: Taking Our Life Experience into Design
Barry is a well-known interior designer and product designer, and in this session she shared how she sees design and how nature inspires her every day. 
"I love nature; it is my starting point for color and form," she said, admitting that she steals inspiration from such things as eggs, magnolias and pistachios.
Barry believes in taking the time to see the connection between design and nature, explaining that "white is a blank canvas for a bounty of color from the garden." She starts all of her designs with a watercolor and then brings them to life.
To Barry, design is: 
– A balance of order and form
– Varying shades of one hue
– Light that illuminates the stillness of a room and brings quiet spaces alive
– Restful to the eye and the psyche
– A casual celebration of living well
– Editing away the non-essentials
– Lives everywhere in forms that speak the same language from room to room
– Part of a larger whole; it is not the total
Barry loves unassuming spaces, saying that "the dining room is a space that patiently awaits its time," and she believes your intention of the kind of client you want brings that client to you. After her presentation, the audience was invited to the Kravet showroom to see her beautiful new textile line, which was inspired by what she calls key places that have defined her aesthetic.
Matthew Quinn: Quintessential Kitchens Behind the Scenes
Atlanta-based designer Matthew Quinn has worked internationally on kitchens and baths and has won several national design awards, so he decided the next step in establishing himself as a luxury designer would be to create a book, Quintessential Kitchens. 
"The book is my opus," said Quinn. "I wanted to show that kitchens can be pretty and glamorous."
He explained to his audience of local designers that a book gives a designer credibility and can help secure more contracts and show houses. It also secures originality in an internet-driven world, where designs can be copied very easily. He then went into all the steps taken in making the book, including how he meticulously cleaned all of his designs before they were photographed and how his staff came from all walks of life. The end result, as he explained, is an investment in his career and a testament to his work. 
Cortney Novogratz: Collaborative Design
Having just purchased an old castle in Los Angeles with her husband and seven children, Novogratz, who is The Shade Store's latest design collaborator and the star of hit television shows 9 by Design and HOME BY NOVOGRAVITZ, shared how she and her husband designed the new home together with input from their children. 
She and her family moved from New York and bought a 1920s-style castle in the Hollywood Hills. She and her husband, who she says are "self-taught designers who never learned the rules," had to gut it and replace the exterior but wanted to keep its integrity by keeping a few of the home's original pieces, including the staircase, windows and trees on the property.
Because the earthquake walls in the backyard had to stay in a somewhat tiered format, she added daybeds at varying levels and an entertainment space where her kids spend a lot of time. She and her husband sold the existing kitchen cabinets and appliances and opened up the space so the family could spend more time together. 
They spend ample time together and sometimes with the kids in two visiting flea markets and antique stores for a mixture of tastes. Many of her children share bedrooms but were given a budget to design certain areas of those rooms as their own. This, she says, taught them the art of compromising with their siblings and with cost.
Mark D. Sikes: Breaking Boundaries: How to Expand Your Brand by Refining Your Focus and Prioritizing Your Passion
Los Angeles-based designer, Mark D. Sikes, gave his keynote speech about his creative journey, the influences in his work and the experiences that inspire his designs today. He began with his history as a preacher's son and his moves around the Midwest and South. Known for his love of blue and white and chinoiserie, the designer explained how his childhood home still comes into play in the things he loves. 
Unexpectedly stumbling into designing for Banana Republic, Pottery Barn and then for residences around Los Angeles, he started his own brand, Mark D. Sikes, in 2011. To promote this new brand and to encourage others in promoting theirs, Sikes focuses on social media posting and doing weekly personal posts on his blog to engage consumers. He also has collaborated with several brands, like Club Monaco and Meridian Rugs, to help self promote.
"It's all about being authentic," said Sikes. "I just post things that I love personally."
Author note: The top photo is of the Holland Interior Products showroom at ADAC. The company offers many brands of tailor-made shades, blinds and shutters; more than 8,000 fabrics by the yard or made into soft shades and draperies; custom Italian and melamine closets; architectural door, cabinet and drapery hardware; and luxury paint selections.