A Chat with the KBB 2022 Person of the Year and Praiseworthy Picks
February 7, 2023
On this week's From the Tap KBB podcast, we spoke to the overall KBB 2022 Person of the Year winner, Jeanne Chung – along with the Praiseworthy Picks – about their accomplishments and how they are giving back to our industry.
KBB 2022 Person of the Year
Jeanne Chung is the owner of Cozy, Stylish, Chic – a design firm in Pasadena, Calif. She recently completed her retail and to-the-trade showroom, which includes a Monogram Appliances Experience Center, and she designed the kitchen and butler's pantry for the 2022 Pasadena Showcase House of Design (photo below). She says the money she spent on hiring an ADA consultant to hele with her new showroom was one of the best ideas she's had. Chung promotes a collaboration over competition mentality with other designers in her area and has been an advisory board member of the Design Influencers Conference for a few years. As part of her role, she mentors fellow designers on driving a successful business. Chung was nominated for the KBB 2022 Person of the Year by two industry colleagues and is much deserving of the honor.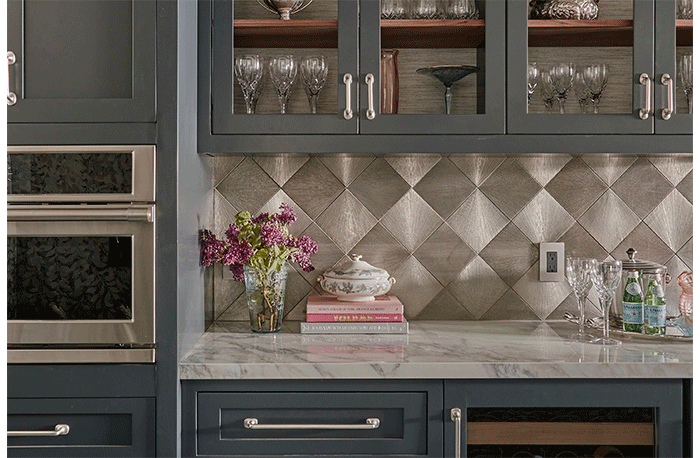 KBB's 2022 Praiseworthy Picks
Laila Collins is the owner and principal designer of her own firm – Manderley Home in Alamo, Calif. – which is a woman-owned and minority business. She and Manderley are dedicated to supporting Youth Homes, a non-profit that furnishes safe spaces for children in the San Francisco foster care system. Collins says partnering with the organization allows her to do something for the greater good and step out of the daily stressors of owning her own business.
Geoff Dunlop is the director of marketing for San Francisco-based Brondell, a brand that launched the Swash Thinline Luxury Bidet Toilet at KBIS 2022 – an innovation that eliminates the need for toilet paper. Brondell is a brand with a deep commitment to being environmentally friendly, and its employees can also become involved in such initiatives as cleaning out an overgrown section of a San Francisco park and planting trees, flowers and shrubs.
Tanna Edler is founder and owner of Tanna by Design in Yakima, Wash. Her blog – Live Easy – won the Interior Design Society's Best Blog of 2022 for design, content and functionality, and her website has recorded more than 130,000 visitors. Her blog provides project stories and photos, gives visitors instructions to do certain things on their own and offers product-sourcing information. Edler shared her future plans for her business, which include increased virtual design opportunities.
Certified Kitchen Designer Sharon Sherman is founder of Thyme and Place Design in Wyckoff, N.J. She has more than 40 years of experience in all facets of the kitchen and bath industry and is a whiz at creating highly accurate contracts. Sherman recently started the Design Collaborative platform for designers on Clubhouse as a way to collaborate with other designers. She also donates 40% of her initial design consultation fee to the Social Service Association of Ridgewood.
CMKBD and CLIPP-certified designer Maria Stapperfenne is with Tewksbury Kitchens & Baths in Whitehouse Station, N.J. She is also heavily involved with the Living in Place Institute and does a major part in educating industry pros and consumers. She recently co-wrote a new program for the NKBA called "One Fall Can Change It All." Stapperfenne believes in practicing what she preaches to clients and has done several living-in-place renovations in her own home.
CLIPP-certified designer Ebony Stephenson of Designs by Ebony in Newport News, Va., is the first Black president for the Virginia Chapter of the NKBA. In that role, she works to foster equality, diversity and inclusion in our industry. She was chosen as one of the "5 Black Designers to Follow" on Instagram by the NKBA in 2022 in honor of Juneteenth, and as part of the Virginia Tech Residential Environments and Design Advisory Board for the last 10 years, she is able to assist professors in planning their curriculum.
Wayne Turret is owner of the Turett Collaborative in New York City. His firm's mantra is to consider sustainability during each step of the design process, and he even built his own home according to Passive House standards – essentially creating a highly energy-efficient residence. His Turret Collaborative blog provides such educational content as architect profiles, and his future plans include completing more sustainable projects.
Kaitlyn Wolfe is owner and principal of Iconic by Kaitlyn Wolfe in Scottsdale, Ariz. Although she began her education in neuroscience and healthcare, she always knew she wanted to be an interior designer and has had much success in the field. She shared her tips for business success, including building and fostering relationships and growing a successful team. Wolf gives back to the industry by inspiring the younger generation to become engaged in it and uses social media to share information and educate her peers.
To learn about the KBB 2022 Person of the Year's future plans, as well as those of the eight Praiseworthy Picks, watch the full video above or listen to the podcast on Spotify, Google Podcasts, Apple Podcasts, Pandora and other outlets.
By Chelsie Butler, KBB Executive Editor