Announcing KBB's 2017 Product Innovator Award Winners
---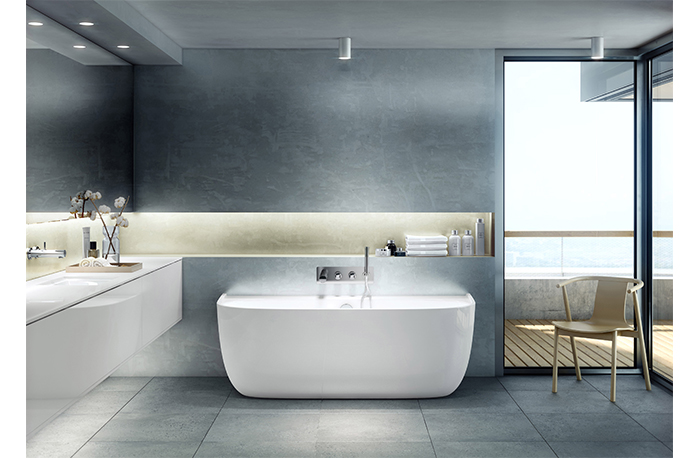 October 9, 2017
KBB is proud announce the winners of our 2017 Product Innovator Awards. Our esteemed panel of judges chose the winning products based on meeting market needs, engineering advancements, aesthetic merit and innovation. Awards go to both the Kitchen and Bathroom Products of the Year; Second and Third Place Kitchen and Bathroom products; and six Honorable Mentions. This year's trends include products that help make a home accessible to all people; products that provide ease of use and peace of mind; extremely durable, flexible surfaces; affordable, multi-functional appliances; functional hardware; full-spectrum lighting; and technological advancements.
Click HERE for a gallery of this year's winners!
Kitchens
Kitchen Product of the Year: Geoluxe Pyrolithic Stone
Second Place Kitchen: Zephyr's Lux Island White
Third Place Kitchen: ILVE's Majestic Induction Range
Honorable Mentions – Kitchen:
Tresco Lighting's Snap Panel Lighting
Frigidaire Gallery FS Induction Range made by Electrolux
Ketra D3 Downlight
Bathrooms
Bathroom Product of the Year: Victoria + Albert's Eldon Tub
Second Place Bathroom: American Standard Spectra Touch & Spectra eTouch Showerheads
Third Place Bathroom: Delta Faucet Co.'s Delta Water Leak Detector
Honorable Mentions – Bath:
TOTO USA Neorest AC
INOX Hardware's Barn Door Lock
Daltile's Panoramic Porcelain Surfaces
This year's Judges
Lauren Levant is an emerging leader in the luxury kitchen and bath design industry, and her designs have claimed more than 20 awards. She has been named among HGTV's top 10 American Designers under 35 and has been selected as Designer of the Year by Viking Appliance. Her projects have been featured in several publications, including Elle Decor, Architectural Digest and The Kitchen Bible: Designing the Perfect Culinary Space. Her firm is based in Pittsburgh, Pa.
Chris Dreith, CMKBD, CRPM, is the president of the Home Improvements Group, Inc., one of the premier remodeling companies in Northern California. She is a California Licensed General Contractor specializing in remodeling and a Charter Member of the SEN Design Group, the first national buying/marketing group in the kitchen and bath industry. Her enthusiasm and dedication to the industry is evident in her numerous design and business awards, both locally and nationally.
John McClain is principal designer of John McClain Design, a residential interior design firm with offices in Florida and Los Angeles. His projects have received numerous accolades and have been published in countless magazines, and his design advice can be seen regularly online, on television and in print. McClain has fueled his passion for custom furniture design by launching Gilded Home in 2016, a to-the-trade line of home furnishings with showrooms in Atlanta and High Point, N.C.
Bob Borson, FAIA, is a principal of Malone Maxwell Borson Architects, a full-service architectural firm based in Dallas. Since 1992, his firm has specialized in the design of retail and commercial interiors, single and multifamily homes and corporate marketing centers. The award-winning practice is frequently published in professional and shelter publications and widely is recognized for its thoughtful and considered designs. In 2013, the firm was honored as the AIA Dallas Firm of the Year.