Beko HarvestFresh Earns KBIS 'Design Bites' Top Honors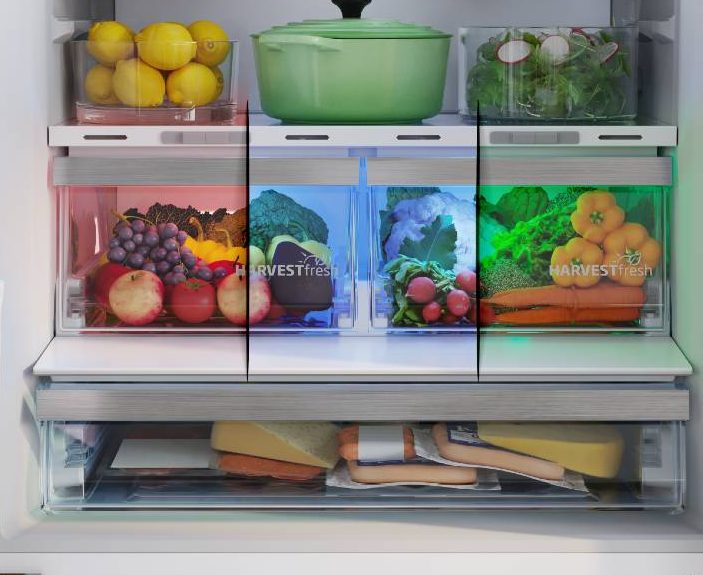 February 1, 2023
As a global brand with a mission of sustainability Beko, practices what it preaches by developing technology that helps elevate the smart and healthy home of its customers through its major appliances. The panel of judges in the Kitchen & Bath Industry Show (KBIS) 'Design Bites' competition were won over by the HarvestFresh technology at the heart of Beko US new refrigerator line, earning it top honors.
Design Bites is a "Shark Tank"-like program's award recognizes the brand that offered the best combination of innovative products and presentation of product capabilities and benefits at the KBIS NEXT Stage.
Beko, the "Brand with the Biggest Bite," was selected by a panel of judges who included Leigh Harrington of Reviewed, part of the USA TODAY Network; Sarah Robertson, Studio Dearborn by Sarah Robertson; and Breegan Jane, TV host, interior designer, entrepreneur & philanthropist.
The competition also named a People's Pick winner, selected by the audience, which included members of the media and the Designhounds Influencer Network, a community of design "micro influencers," managed by Modenus Media through a live texting app. Brondell, a maker of smart bidet, water filtration and air purification products, took that honor.
Design Bites gave companies the opportunity to tell their product story in a three-minute presentation to the audience, using three to five slides as part of their presentation. In addition to Beko US and Brondell, other brands represented were: Bocchi, Fotile, Fulgor Milano, LG Electronics (which won in 2021 for its smart washer/dryer), Moen, nobilia North America, One Click Contractor and ROBAM.
Beko previewed HarvestFresh at KBIS 2022 in Orlando, Fla., where it received lots of show floor buzz, and the company officially debuted the technology at this year's show, which is being held at the Las Vegas Convention Center Jan. 31 – Feb. 2.
Beko, Parent Company Driven by Healthy Living & Sustainability
The company explains that the innovation is the signature technology behind a new Beko refrigerator line that "preserves fresh vegetables and the essential vitamin content necessary for a healthier life." The high-tech refrigerator is among the appliances that comprise the Beko Healthy Kitchen – the first of which are being deployed in gaming exec Michael Wann's net zero carbon home.
The technology development started as EverFresh+ with Active Blue Light, a series of proprietary crisper drawers in all Beko refrigerators that keep vegetables fresh for 30 days, evolved to extend the life of vegetable vitamin content as well, according to Beko.
From there, HarvestFresh originated in Europe as a three-color light technology that simulates the 24-hour natural sun cycle – Blue Light at sunrise to initiate the photosynthesis process, Green Light at midday to capture the strongest sunlight, and Red Light at sunset to prepare for the night – to preserve vitamins A and C in fresh vegetables longer, the company states.
[related]
"We're challenging the way the market looks at food preservation, and continually upping the bar. Last year, it was preserving fresh vegetables for 30 days to create the opportunity for a healthier diet and a smaller carbon footprint thanks to reduced food waste and less trips to the supermarket," says Beko VP of marketing Justin Reinke.
"Now with HarvestFresh, we're putting the sun's natural light cycle into your crisper drawers to extend the vegetables' vitamin and nutritional life. It's a game-changer for anyone wanting a healthier, more sustainable life."
Beko is one of a dozen brands under parent Arçelik, a global household appliances company, which recently scored 87/100 in the 2022 S&P Global Corporate Sustainability Assessment (CSM), an independent evaluation of the world's largest companies that assesses their sustainability performance and environmental, social, and governance (ESG) efforts.
Last year marked the sixth in a row that Arçelik was listed in the Dow Jones Sustainability Indices (DJSI) and the fourth consecutive year it achieved the highest score out of 46 companies assessed in the DHP Household Durables Industry, Beko notes.