Bold Design Awards
---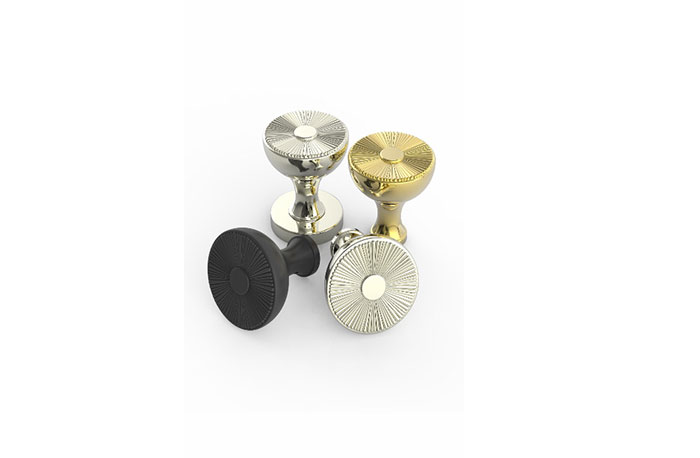 December 16, 2016
                                        Above: Winner Elizabeth Scott
Baldwin Hardware recently gathered hundreds of influential architects and designers, customers, employees and Design Council members at the historic Greystone Mansion in Beverly Hills, Calif., for a gala celebrating the company's 70th anniversary. During the gala, Baldwin announced the three winners of its Bold Design Award Competition, which was rolled out during the AIA National Convention in May.
Coined the Baldwin Bold Design Award, architects, designers and students were encouraged to illustrate what they believed to be the next bold hardware design.
KBB spoke with PJ Rosch, senior brand manager for Baldwin Hardware, to find out why these winners were chosen.
"Entries were judged based on design aesthetic, authentic Baldwin style and real-life application," said Rosch. "A panel of judges from Baldwin's industrial design and marketing departments selected the winners."
For each of the winners, Rosch explained the reasoning behind their award.
Winner: Elizabeth Scott, Lake Forest, Ill. –based Elizabeth Scott Design Group
Category: Designer
Project: A knob design inspired by star-like details that are prevalent in today's design world.
"Her design was detailed elegance. The design is beautiful, works in many design applications and looks good in all finishes." – Rosch (Image Above)
Winner: Aaron McDonald, New York, NY-based ADG/McDonald
Category: Architect
Project: Ingenue
"We really liked this design, and ingénue was a great title. Aaron's design is beautiful now, and it will stand the test of time." -Rosch
                                              Winner: Aaron McDonald
Winner: Melissa Hoerber, Bradley University, Peoria, Ill.
Category: Student
Project: A bathroom hardware design intended to bring beauty to the space.
"She had a solution to a common, ugly problem. It was simple, beautiful and brilliant." – Rosch

                                         Winner: Melissa Hoerber
Prizes included $15,000 in Baldwin Hardware for the architect and designer, as well as a $5,000 cash award for the winning student. All three won a trip for two to the 70 Years Bold Gala to accept their awards.