Cosentino C100 Convention Celebrates 20th Anniversary
---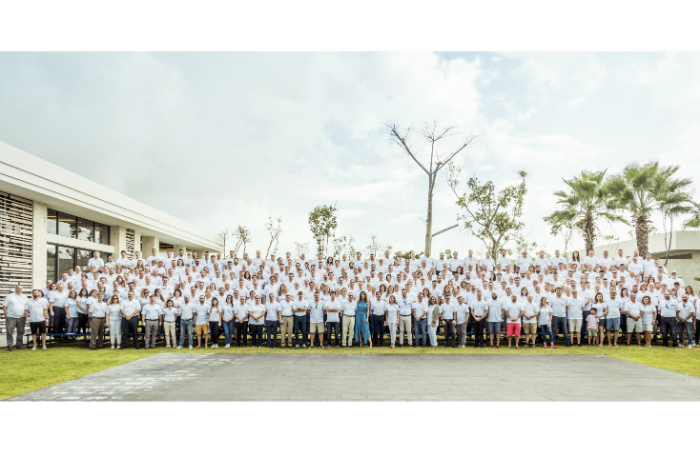 February 8, 2018
In Riviera Maya, Cosentino Group, the global leader in the production and distribution of innovative surfaces for architecture and design, kicked off Cosentino 100, an annual convention where the multinational manufacturer brings together its main partners and customers from North America to learn how Cosentino will drive innovation in design, manufacturing technology and safety for the surfacing industry in 2018 and in the years to come. Themed "At the Top with Cosentino," each touchpoint of the conference centered on Cosentino's commitment to the attendees, strengthening a bond and partnership beyond a simple brand – client relationship.
This marked the 20th anniversary of the convention, which drew an all-time record of 415 attendees representing 180 companies from the U.S. and Canada. To commemorate the milestone, HGTV star Alison Victoria emceed the event alongside Cosentino NA Marketing Director Massimo Ballucchi. The event also drew CEOs from the industry's professional organizations including the American Society of Interior Design (ASID), the Marble Institute of America (MIA), the National Kitchen & Bath Association (NKBA) and the National Association of the Remodeling Industry (NARI). Dekton brand ambassador, architect and designer Daniel Germani also attended to present his latest color collaborations with Cosentino that will launch later in the year.
The biggest surprise, however, was a cameo from fashion icon Cindy Crawford, the face and brand ambassador of Silestone by Cosentino, who took to the stage with Alison Victoria for an intimate conversation on the intersection of design and fashion, her alliance with Cosentino, and the renovation of her new home just outside of Palm Springs, California.
This year's Cosentino 100 is the first since relocating its North American headquarters to Miami in 2017 – a strategic move that centralized Cosentino's management and operations across North, Central and Latin America.