David Weekley Homes Recognizes Moen for Excellence in Quality and Service
---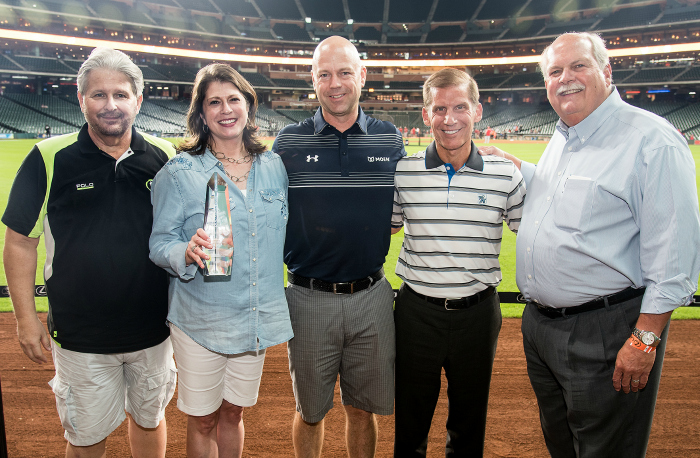 September 8, 2017
For the seventh time, Moen has earned the nationally acclaimed Partners of Choice Award by privately held U.S. home builder David Weekley Homes. This year, the faucet brand was honored for the second time with the prestigious "A,A" rating for quality and service by David Weekley Homes' Supplier Evaluation Platform – a rating received by only a small percentage of suppliers. The award was presented in a ceremony in August at Minute Maid Park – home of the Astros – in Houston.
"We are truly honored to receive this remarkable award from David Weekley Homes and to achieve a top score in both categories is so rewarding," said Tim Shearer, vice president national accounts, Moen. "We're committed to always providing the best customer service, developing a stellar product line and creating trust at every level – from the builder to the plumber installing our products. At every step, we strive to be the best partner and are honored to be recognized for our efforts."
To obtain rankings, nearly 1,000 David Weekley Homes' employees score their 200 suppliers on quality and service. Each company's numeric scores are averaged and then an alpha ranking – ranging from "A" to "F" – is assigned that relates the score to all national partners. After the comprehensive evaluation, few companies rise to the top with excellent marks. In fact, only 20 percent of scorers rank an "A" and the odds are even less for getting an "A" in both categories.
"All companies believe the challenges in their industries make them different," said Bill Justus, vice president supply chain services and chief architect of the renowned supplier feedback platform for David Weekley Homes. "When we purchase a company's products, we're also buying their expertise in managing the channel to overcome unique industry obstacles. This ensures we're consistently delivering and installing on a timely basis and providing cost-competitive products into our homes. Our unique ranking system allows us to quantify excellence by measuring a company's success in meeting our needs and compare companies operating in diverse industries. Our friends at Moen have proven themselves to be world class at delivering quality and service to David Weekley Homes."
David Weekley Homes' team members are asked questions such as:
What are the three biggest issues you deal with when managing a supplier?
What's a reasonable response time for a supplier to return your message?
Do you know who your local representative is and how to contact them?
Suppliers have access to the remarks and scores made by participants. Feedback to the Moen team this year, included:
"Very flexible and accommodating whenever issues arise (which isn't very often)."
"Excellent install quality and service."
"We get quick responses with requests."
Pictured: Bill Justus, VP of Supply Services, Weekley Homes; Kamlin Nedved, Senor Strategic Account Manager, Moen; Tim Shearer, VP Single Family and Wholesale National Accounts, Moen; Todd Teter, VP/GM of US Wholesale, Moen; David Weekley