Majestic Kitchen & Bath Creations Earns Three Safety Achievement Awards
---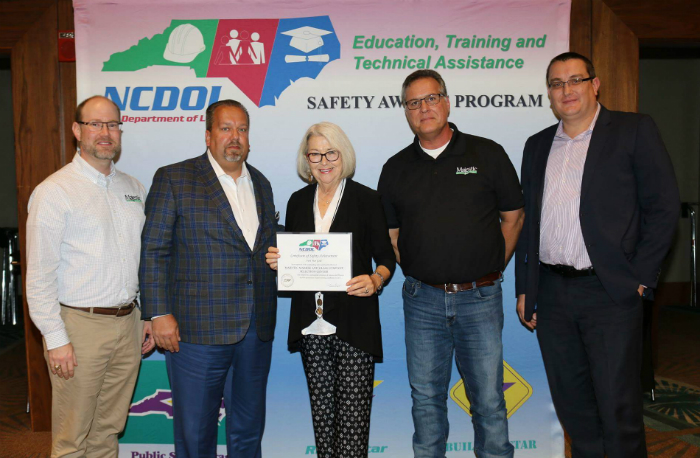 June 21, 2018
Majestic Kitchen & Bath Creations, a subcontractor for residential and commercial construction, earned three safety achievement awards from the North Carolina Department of Labor (NCDOL). The NCDOL safety awards recognize and promote effective safety and health management systems throughout the state. Recipients must have maintained either a perfect safety record for that year or an incident rate at least 50 percent below the industry average and must have had no fatalities at sites during that year.
As a subcontractor providing kitchen and bath solutions, Majestic is committed to safety. Employees handle heavy materials as well as hazardous equipment and machinery daily, making safety paramount on a continuous basis. During the past year, Majestic has integrated new safety protocols and processes at each of its facilities to further ensure a safe work environment and professional atmosphere. New processes include centralized accident reporting, employee motor vehicle report checks and drug testing, regular internal safety audits and the implementation of an employee safety council to ensure a safe working environment for employees and trade partners.
"We are honored and proud to be the recipient of three NCDOL safety achievement awards," said Scott Byers, CEO of Majestic. "Our vision is to be the most professional subcontractor to serve the Carolinas — professional means we ensure that we are providing safe environments at all of our facilities and worksites for both our team and builder partners. We have made safety a priority and these awards are validation that we're progressing toward our vision."
NCDOL Commissioner of Labor Cherie Berry presented Majestic with the safety achievement awards earlier this month at the Raleigh Safety Awards Banquet.
Pictured from Left to Right: Kevin Sasser (Risk Manager), Scott Byers (President/CEO), Commissioner Cherie Berry (North Carolina Commissioner of Labor), Doug Moore (Safety Coordinator Stone Division), Val Vizitiu (Production Manager Glass Division)