A Day in the Life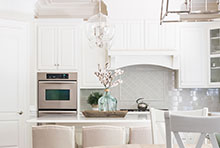 November 29, 2019
By Lauren Clement
A typical day for a designer can feel like a lifetime in a day sometimes! A day in my life as a designer, mother and wife is like when the computer screen is filled with 20 different tabs – all opened at once. The first 90 minutes are all about getting myself dressed, the kids fed, lunches made and getting us out the door for the 30-minute traffic-filled ride to school. During that car ride we are usually singing at the top of our lungs, practicing math facts or spelling words or talking about what is happening with each other. All the while I am drying my hair with the window down and putting my makeup on while we are stopped – yes I am THAT girl. Throw in a text and phone call from a contractor whose day has already started, ten emails and my daily Instagram post and you have my first 90 minutes of the day. 
Once the girls go to school, it is on! I typically have anywhere from two to four meetings in a day, mixed in with stops to check on job sites, pick up sample material, grab an accessory or two for photo shoots, stop in an art gallery or run a personal mom errand. Overall there should there be a spare five minutes. 
Some days I pick up the girls and take them to the barn for a riding lesson if I am lucky enough to breathe in the fresh pony-filled air, and then it is home for homework, dinner and bedtime. Then round 12 starts in my home office with emails, finding fabrics and general catch up. I do try to block one office day a week but that is a rare gem of a calendar entry when that gets to happen.
Shockingly I do not drink coffee – love the smell, hate the taste – so I run on sweet tea, one diet Coke a day, a 20-minute power nap when allowed and the occasional Red Bull. I drink tons of water, snack like a beast and have figured out how to love working out of my car. Every second counts as I want to be there in full for each client, for my girls, for my husband (he is totally third string sometimes but he is truly the BEST and helps out every minute that he can) so I try to make the most of my time throughout the day. 
But what I have learned lately is that as my kids get older, they need me more, so I have learned to put down my phone for them and be with them – truly with them. That time is precious and then it makes the time when I have to go into my office or have an evening meeting more bearable, since we just spent 30 solid minutes reading or playing or singing together. 
But I also love that my kids are watching their mom multitask, field phone calls, put out fires, get jazzed about a new job, make beautiful selections, etc. and still be their mom. I hope that it is teaching them the power of determination and self-motivation and love for a career. I do take them with me to job sites, on errands and selection meetings when I have to and they are finally at the age where it is fun and exciting for them, and they are learning too. 
So is it hard? YES. Are there times when I have to close my eyes and escape for 20 minutes? YES. Have I ever wondered why I do not have a 9-5 desk job with a steady paycheck? YES. But I am filled with so much passion for the uber busy design world that I have created and am thriving in. To be able to succeed there while raising two amazing daughters is truly my joy and I count my blessings every single day.
Lauren Clement, owner of Lauren Nicole Designs, started her career as an interior designer in 2006, after years of watching her own mother run a successful design business while being a very hands-on mom. With an emphasis on kitchen and bath work, Clement specializes in full home renovations in the surrounding North Carolina area.