A Deep Dive into a Way of Design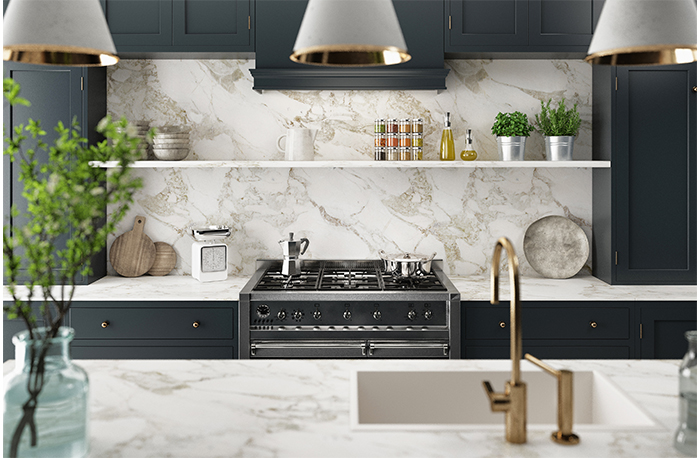 January 22, 2021
When we talk about luxury, the first thing we think about is glamour – something sophisticated and especially something expensive. But the truth is that true luxury is being able to enjoy the little things, what we like and the good times we share with others. Therefore, you can talk about luxurious kitchens within everyone's reach; a kitchen to enjoy and a space where the client wants to be. However, a luxurious kitchen is also the one that opens us to a fascinating world in terms of innovation, quality, comfort and design.
Kitchens with Luxury
These are kitchens with contemporary design and that are aesthetically stunning. Where luxury is measured in comfort, exquisite functionality, ergonomics, the pleasure of cooking with appliances that make everything much easier. in short, the personal choice of each element makes the kitchen a luxury space.
Luxury can be seen in the careful selection of high-end appliances within a kitchen with a lot of culinary activity. Or it can have a comfortable aesthetic and a place where you want to pass the time. Therefore, a luxurious kitchen can be available to everyone, regardless of the kitchen budget and size.
Elements of Luxury
You can invest in certain high-quality elements and look for lower-cost versions of others. Professionals know how to advise how to monetize a kitchen budget. Getting the best result and creating a custom luxury kitchen. Here are some elements that add to a kitchen's luxury:
Artisan-made kitchen furniture. Count on the warmth of the materials and a job well done. Follow an avant-garde process with the most modern techniques and select only the materials that best suit the manufacture of each piece.
Next-generation hardware. Turn the opening and closing of cabinet fronts into something exquisite. Maintaining order is a luxury, so you have to have everything in place and a place for everything.
Natural materials that transcend with texture. The soft touch and even smell transmitted by certain materials, such as Wood, are a plus in the design of the kitchen.
Efficient appliances with benefits tailored to who will inhabit the kitchen. A suitably sized refrigerator or an oven that makes gourmet dishes. These are appliances that are authentic luxury pieces.
Handmade elements add value to the kitchen. Handcrafted tiles, an iron structure for a table or an auxiliary piece of furniture will also give personality to kitchen design.
Pieces created by a designer like stools, ceramics and lamps can be the key to a luxurious kitchen.
Originality and a seal of its own make a kitchen exclusive, therefore everything that contributes to make the kitchen unique will make it luxurious.
The aesthetics of a luxury kitchen are marked by a timeless style, because a luxurious kitchen is made to last.
A luxurious kitchen within everyone's reach is a reality, it just all depends on the perception of luxury. For example, when a customer is passionate about cooking, it would be a real luxury to have a space to enjoy this – having everything at hand and in place.
-María Jesús García, Interior Designer at Kansei
-Photo: Aldeca Productions/Adobe Stock