A Look at the 2020 K&B Showroom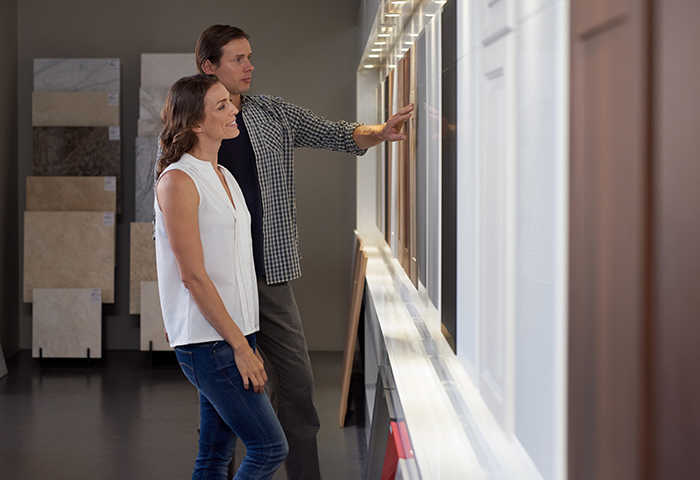 July 10, 2020
One of the biggest questions for the kitchen and bath industry is the future of the traditional showroom. Virtual options are growing in popularity, but when it comes to residential renovations, clients still want to touch and feel what they buy. This week's KBTribeChat dove into this hot topic to find out how the brick-and-mortar version will evolve in the coming years.
Changes Happening Now
Showrooms have gone virtual with immersive 3D walkthroughs that can easily be created with 360-degree photos or renderings.
Showrooms are doing lots of virtual appointments, with designers in the showroom and clients at home. There has been use of new tech with 3D walkthroughs and augmented reality and virtual reality.
Safety and sanitation are making a huge impact on everything now, and showrooms are requiring any visitors to take precautions with masks and social distancing.
Advantages a Virtual Showroom
Being able to present more options to your customer results in a higher chance of a purchase.
Convenience! Virtual showrooms make it easy for people to get a better idea of what they want in their space from the comfort of their own home.
Clients definitely still want to look and feel products before ordering – that component probably won't go away.
Leads can see what you offer before they walk in your showroom.
Updating virtual displays is faster and less expensive than replacing physical displays.
Leads can be addressed 24/7 from anywhere in the world.
Disadvantages of a Virtual Showroom
The virtual showroom lacks physical samples that can be felt and seen in person.
Computer screens are not always calibrated to view colors of products properly.
The customer doesn't get to engage with the retailer's brand, as there is no personal contact.
The drawbacks include those shoppers who aren't technology savvy and those who are highly indecisive for their needs and need personal contact to decide.
Normal networking arguably cannot take place without a physical meeting.
Merging the Two: Technology in Showrooms Today
Nowadays people can shop virtually from anywhere, from TV to social media and websites to magazines, so customers are way better informed and demand the newest, most updated designs. Showrooms need to be up to date at all time – online and in person – to meet the needs of customers.
In-store appointments and presentations often include multi-screen meetings. It's not uncommon for showrooms to use a TV, tablets and client's phones all in the same meeting.
Technology has allowed showrooms to offer a larger product assortment in digital formats to shoppers at home. They now have access to more vendors and brands to source product to meet all customer demands, no matter what size the renovation project is.
Check out next week's KBTribeChat by searching for the KBTribeChat hashtag in Twitter on Wednesday at 2 p.m. EST.