A World of Wellness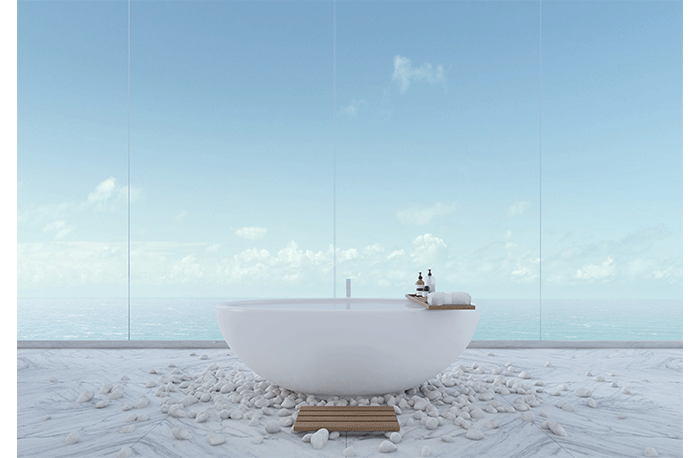 February 12, 2021
Trends come and some trends go. While design for wellness may not have been top of mind for homeowners before COVID-19, it surely is now – even if they don't know that the items at the top of their wish lists constitute this new movement.
In two recent wellness-themed events, we got a great handle on what this term really means to today's homeowners and everything it encompasses.
A Keen Eye on Cleanliness
Keeping things clean and hygienic is more important now that ever as it relates to our health, as well as the health of our homes. According to J. Walker Smith, Kantar's chief knowledge officer – who was part of the recent Kohler@Home session titled "The Impact of Clean" – the home is where almost all of our activities are taking place right now, and it is more about making it a place where we can get everything we need to get done.
People are paying more attention to things like hands-free faucets, bidets and anti-microbial surfaces, which help with the cleanliness trend we are all bingeing these days. As such, Smith says there is a huge opportunity for new product innovations.
According to Lori Paranjape, founder of Mrs. Paranjape Design + Interiors, some of her clients are requesting a "dirty kitchen" or scullery, where they can place dirty serving plates and run a load in the dishwasher, keeping the main kitchen clean.
Aside from the health and convenience benefits, there are also emotional benefits a clean space can provide. A dirty, cluttered space can increase stress, when all anyone wants to do these days is relax in their sanctuary that is home.
"Now we have a deeper understanding of the need for cleanliness because there are health concerns tied to it," said Paranjape. "Clients are telling us what they need instead of us coming up with all the ideas."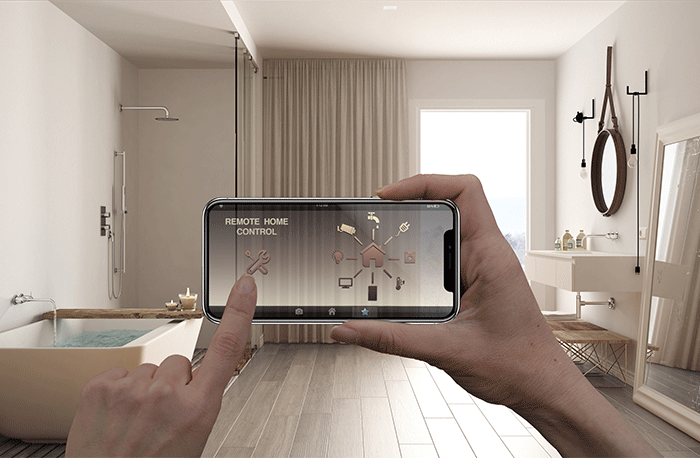 manow/Adobe Stock
Getting Connected
Smart home technology – believe it or not – can play a part in heightening the wellness factor in your clients' homes as well. A Kohler@Home session titled "Creating a Smarter Home" cited touchless faucets, self-cleaning toilets, digital showers and lighting programs as some of the most popular smart products on the market. Voice-activated mirrors and tubs may be gaining traction as well.
According to Brad Levitt, president and founder of AFT Construction, because people are spending so much more time at home, air and water quality are important for healthy living, and the smart market is taking notice.
Technology is not often the easiest thing to discuss with clients, but it is important to define your clients' needs before you get started.
"Each client has a different approach, but it is our job to personalize the experience," said Jordan Cooper, cofounder of Whizcribs. "We create experiences for individual spaces and people to solve problems."
Bathroom Sanctuaries
In "Designing with Wellness in Mind" during Fantini's recent Wellness Week, Kristen Sidell, founding principal of Sidell Pakravan, emphasized the importance of natural light, a connection to nature, elegant storage and less clutter in the bathroom. She also stressed the need for proper acoustics, as a bather does not want to hear what is going on in the rest of the house.
Cindy Rendely, architect and owner of Cindy Rendely Architexture, talked about the desire to emulate hotel-like spaces in residential homes, and designer Alessandro Munge of Studio Munge suggested investing in quality materials and products to make daily rituals effortless. The trio also agreed that layers of light are important in every bathroom project.
"Whether a small or large space or budget, light can be used as a material in a bathroom, and natural light is free," said Rendely. "Light can heighten the overall experience."
To add to the sanctuary feel of a bathroom space, Munge suggests heated floors for the warm and tactile feel. Rendely likes to use spa-like shades and natural elements like stone, wood and metal – items without a lot of visual noise.
-Top photo: ArchiVIZ/Adobe Stock