Aging Gracefully at Home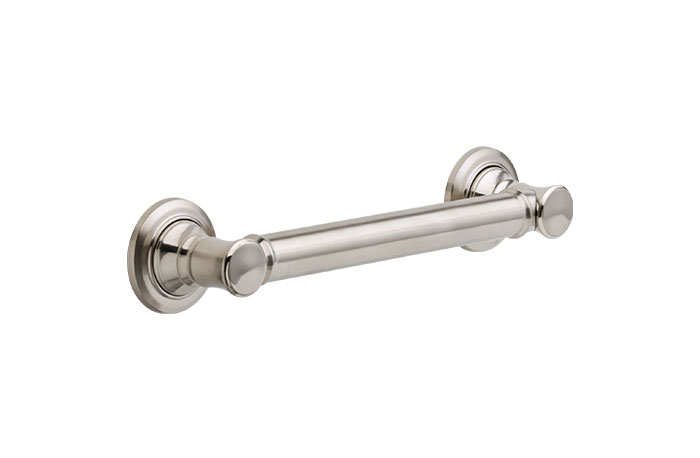 May 16, 2019
There are a lot of great reasons for homeowners to plan on aging in place. If your client is remodeling or building a new home, incorporating aging-friendly choices not only allows them to stay in the home they love but can save money in the long run.  
Assisted living is much more expensive than living in your own home. With thoughtful planning, staying safely in your home longer is not only possible but can be beautiful. Even if your client doesn't yet need modifications for aging in the home, planning to include them as you build or remodel is a smart decision.  With a growing demand for design that suits all ages and abilities, making a home safe and accessible for your clients' golden years doesn't have to look institutional. Here are some of my tips and favorite products for creating an aesthetically beautiful living space your client can enjoy for many, many years.
Grab Bars

For people with limited mobility or balance issues, the bathroom can be a dangerous place. Grab bars make it easier to get in and out of the tub or shower and are an essential safety item for aging in place. Grab bars now come in a wide variety of attractive styles and finishes, enhancing the look of the bath rather than detracting from it.  The Traditional Decorative Grab Bar from Brizo is a great example.
Lighting

Thoughtful lighting choices can also make your home safer. ADA-compliant lighting is essential for creating an environment that is easy to navigate and maintain. Consider installing motion-activated lighting for stairways and lowering light switches so they can easily be reached from a wheelchair. This beautiful Cornwall Wall Sconce by Currey from Connecticut Lighting Centers has a narrow profile that will not intrude on a narrow hall or small bath where maximum clearance is important.
Cabinetry

Another important feature in a kitchen or bath is counter space that is accessible for anyone, whether they are standing or seated in a wheelchair. This Shaker Americana Vanity from Fairmont Designs looks lovely and is easy for just about everyone to use.
Hardware

When choosing hardware for a remodel, consider options that can be manipulated easily by hands with limited strength or dexterity. Knobs are trickier to manage than levers. For cabinet interior and exterior doors, choose lever- or blade-style handles that are easily moved with a simple wrist motion, such as these Verdura latches from Rocky Mountain Hardware.
Elevator

Negotiating stairs can be difficult and dangerous as we age. Chair lifts are always an option, but I really love the sleek look of this glass elevator from Visilift. An elevator inside the home (or affixed to the exterior) not only bypasses the fall risk of stairs but makes it much easier to carry things like baskets of laundry, suitcases or groceries. If the goal is to remain safe and independent in your home, an elevator is a fantastic choice. Not to mention, it looks beautiful!