America's Most Popular Interior Designers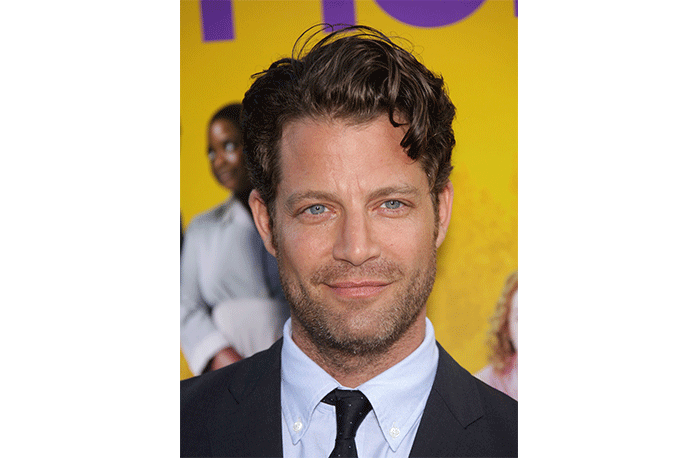 August 9, 2021
Nate Berkus is the most searched for interior designer in the U.S., new research can reveal. The designer and TV personality pulls in nearly 50,000 searches per month – higher than any other designer on the list, including husband Jeremiah Brent.
The USA's second-most popular interior designer is Bobby Berk. The "Queer Eye" star has a net worth of more than four-million dollars and rakes in 40,500 searches a month – more than twice the average number of searches (19,860) for the top 10 designers.
The study, by creative resource Design Bundles, analyzed 100 interior designers around the world to discover the 10 most popular designers in America. It also ranked the top 10 by their Instagram followers and earnings, to find the most powerful social media star among them.*
Jeremiah Brent – who co-hosts reality TV show "Nate & Jeremiah by Design" with husband Nate Berkus – is also among the nation's favorite designers. The interior design guru has the third-highest average searches at 33,100 a month.
Celebrity designer Kelly Wearstler – famous for crafting interiors for stars including Cameron Diaz and Gwen Stefani – saw some of the USA's highest average searches at 27,100, while the brand Jungalow, created by Justina Blakeney, achieved 14,800 searches.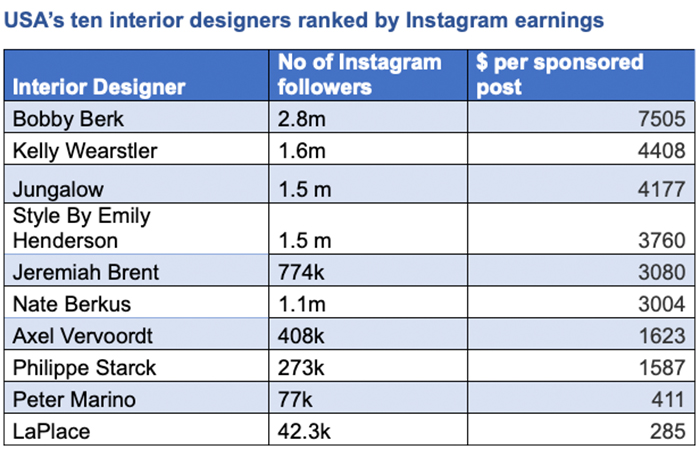 Popular Social Media Interior Designers
Bobby Berk led the charge when it came to social media, with the biggest Instagram following (2.8 million) of the entire list. Berk commands an estimated $7,505 per sponsored post – nearly triple the average Instagram earnings of all 10 designers. Kelly Wearstler has the next-highest number of Instagram followers (1.6 million), making an estimated $4,408 per post.
And while Nate Berkus may be winning when it comes to Google searches, his partner Jeremiah has a higher Instagram engagement rate (2.27% to Nate's 1.39%), meaning Jeremiah makes more from the platform – $3,080 per post.
A spokesperson for Design Bundles, which commissioned the most popular interior design research, said: "When you look at search data, it's fascinating to see who comes up as the USA's most in-demand interior designers. While there are many iconic American favorites – Bobby Berk and Kelly Wearstler – the presence of designers such as Philippe Starck and Luis LaPlace shows the power of the European influence."
*Search data was gathered from SEMrush and Instagram data from the Influencer Marketing Hub.