Bathroom Trends from KBIS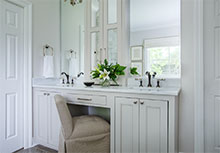 February 26, 2019
Photography Credit: Jessie Preza
Last week was a whirlwind of products, seminars, parties and networking for everyone who attended the Kitchen and Bath Industry Show (KBIS) 2019! The show definitely went beyond expectations with new innovations, design trends and an overwhelming amount of products and information.
We will be covering the show extensively in our April issue, but until then, designer Rachel Cannon of Baton Rouge, La.-based Rachel Cannon Limited Interiors shared the bathroom trends she saw at KBIS.
Tip 1: Incorporate as much storage as possible.
When we're designing a master bathroom, we find ways to create useful, beautiful niches that are intentional and function for the client. I'm a fan of shallow upper cabinets in a bathroom, which we recess into the wall so that the space taken up on the countertop is minimal. Think medicine cabinet but with a major upgrade.
Tip 2: Plan a hierarchy of scale with tile.
A hierarchy of scale is key when using tile combinations. We usually have two to three different tiles in one room, so the key to making them look cohesive is to stagger the scale. Mosaics are often smallest in scale. The next step up could be a 4-in. by 6-in.  size that we would likely use on the shower walls. Finally, the biggest tile might be a 12-in. by 24-in., which works well on the floor.

Tip 3: Say goodbye to jetted tubs and say hello to air massage tubs!
Air massage tubs are definitely in. These create gentle bubbles and massage effects without the disgusting mold or mildew that jetted tubs were so prone to.

What products and trends did you see at the show? Let us know on our Facebook or Twitter @kbbconnect!