Beautiful Dirty Spaces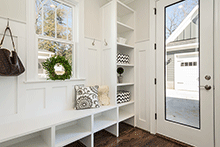 August 22, 2019
This week's KBTribeChat talked about one of our favorite add-on spaces: the mudroom. We've been seeing this more often in kitchen renovations in particular, where it only makes logical sense to give a main entranceway its own facelift. Here's what we picked up during the chat about the best ways to outfit this passthrough space:
Laying out the benefits for your client:
Mudrooms catch and store everyday items to maintain clutter.
More than a dumping ground for shoes, a mudroom provides storage for items you need ready on your way out the door.
It's a perfect place to hang items like purses and backpacks (especially since it's back-to-school season).
This space provides a buffer zone for dirty shoes and clothes – as well as pets!
Locations that work best:
The entryway is still a given.
If your client has a back entryway, that might be better than the front in some cases if kids are often coming and going through here. 
It can be the first room entered from the garage, making it an easy spot to deposit keys and belongings.
Placing it next to the laundry makes it simple to throw dirty items in the wash.
Features to Include
A locker for each member of the household – both child and adult
A place to sit down and take off shoes
Hooks, hooks and more hooks!
A small countertop for keys and other pocket items
Overhead compartments for storing out-of-season items like winter hats in the summer or flip flops in the winter
A pet shower
A ladder to reach the tallest storage spots
Materials to include:
Durable and easily cleanable flooring
For this type of space, anything waterproof and stain- and impact-resistant is necessary.
Materials that are darker will hide dirt better in here.
Making it organized:
Install built-ins with a base cabinet and a countertop for dropping items.
Include a variety of organizational items, like hoods, shelves, drawers and cubbies.
Create a drop zone that fits the family's lifestyle – like including a filing system for mail, an area for completed homework, a spot for keys, etc. Incorporate storage at varying heights so it can be used by every member of the family.
Use a magnetic wall for displaying notes and memos.
Hang a "to-do" board for an especially busy family.
What do you think? Join next week's KBTribeChat by searching for #KBTribeChat in Twitter at 2 p.m. EST next Wednesday, August 28.