Business of Home's Future of Home Conference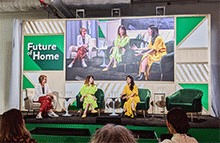 September 30, 2019
The first few words spoken to the 475 design industry professionals at the opening of the Business of Home's Future of Home conference was: "Home Is Hot!" The conference, which took place on Sept. 9 and 10 in New York City, covered wide-ranging topics such as home trends, the future of retail, the future of real estate, shopping in the future and much more.
Google had a significant presence at the conference. Two rooms in the conference space, beautifully designed by Jamie Drake and Caleb Anderson, featured Google's newly labeled "Helpful Home" technologies.
The Future of Home Conference was two days of incredible information, which included some of the best and brightest entrepreneurs who shared their methods and insights on the future of home design and business. Here are some takeaways:
Best Practices to Receive Brand Recognition
Earned media is one of the very best ways to get a positive brand message across to new audiences. Earned media refers to any third-party source that talks about your brand. A tweet such as: "I LOVE my designer from ABC Kitchens," a local newspaper feature and mentions on TV or in blogs are examples of earned media.
Earned media, especially if it communicates with a desired target market segment, offers powerful benefits to brands. Editorial, earned media, social media, blogging and other platforms should all be part of a marketing mix that needs to be cultivated today. Content marketing should not be the main effort for brands.
Online Retail
The internet has changed every industry permanently.
"Younger generations want to buy online, fullstop," quoted one panelist. Create new online/offline services that match up with the brand. A kitchen design studio may add a Designer for a Day service, a variety of consulting and other short-term services at affordable price points to attract new clients. 

Offer allied designers social/marketing benefits in your package of services. Create services to increase efficiency and profitability of their businesses. Time is the new luxury! Build your online services with specific benefits to the user. Create a concierge service. Technology must enhance, not replace, human interaction. Personalization in design is more important than ever before and should be reflected in a firm's online portfolio. Create experiential moments virtually and in person that will connect emotionally with your clients.

It's never been more challenging to cut through the noise in the
marketplace. Know what your ideal client wants. Know what the core differentiating factor of your business is with the goal of enabling your client to connect with your firm in all methods of communication. Have a clear vision, value proposition and messaging. Include origin stories of your brands' products and be the curator of the project. Potential clients are coming into brick-and-mortar stores less and clicking more. Have a clear path for a client to start the process online and finish offline or vice versa. As in fashion, the luxury consumer does not want products all from the same brand.
Home Trends
Home goods is now the fastest ecommerce category in the U.S. and is the third-largest spend after a house and cars – a huge business opportunity. Designers are overwhelmingly sourcing and buying high-end items online. Consumers want on-demand design, i.e., short-term design solutions, partial design work and ways to interact with designers online as the design is being developed.
Thus far in 2019, millennials made 40 percent of home goods purchases in retail stores, 24 percent on laptops and desktops and 36 percent on mobile devices. Millennials are attracted to the value, choice and convenience of online purchasing. This group is taking longer to purchase a home, yet they are attracted to more space the suburbs provide as they begin to have children. 
Smart home technology is important to 40 percent of millennials. Baby boomers are staying in their homes longer and downsizing later. Smart technology in baby boomers' homes offers important ways to cater to physical and mental aging. In the next five to 10 years, smaller-size cities will grow as larger cities become more expensive.
Today's challenge for design professionals is to maintain their authoritative position as an expert and demonstrate value to their clients. Interior designers who work with kitchen design professionals need:
New and inspiring resources
Trade pricing
Easy purchasing via online ordering and easy tracking
Digital tools to organize and collaborate with allied professionals
The venue in New York City and the content, schedule, learning and networking opportunities at this inaugural Future of Home conference were most enlightening and provided a clear look into the tools design professionals need to acquire or cultivate for future success.