Contempo Casual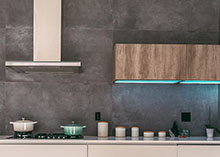 May 16, 2019
Last week's KBtribechat discussion was on contemporary kitchen trends. Visitors to the chat talked shared images of their favorite projects and shared their views on what defines a contemporary kitchen, what trends identify it and what role countertops, color and appliances have play in this style of design.
In my opinion, some of the elements included could really be incorporated into any style of kitchen, including:
Stainless-steel appliances – other finishes are popping up, but this is still the number one choice
High function for all users – this is a given in any kitchen project
Neutral colors with splashes of color – take some risks!
Mixed materials – this is showing up in renovation projects all over the house
Creative storage solutions – everyone wants to hide their small appliances
Tech integration – some people love it, some have yet to understand their options
Lighting in drawers – this may be a luxury to some, but why not?
What really seems to define a true contemporary kitchen is its uncluttered (clean) and sleek design. This is achieved through open shelving versus upper cabinets (homeowners in love with this style go for those horizontal lines) and a lack of busy patterns.
Here are some other design elements that define today's contemporary kitchen:
Overlay, frameless cabinets – laminate is an up-and-coming material
White and gray reign with this style – with wood accents and a little – color in things like backsplashes and appliances
Integrated appliances – think sleek and clean – and matte-black and slate finishes were noted
Waterfall countertops and slabs going up the walls as a backsplash
Join next week's KBTribeChat – which is on sink trends – by searching for #KBTribeChat in Twitter at 2 p.m. EST next Wednesday, May 22.