Customizing Kitchen Layouts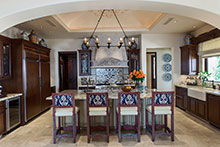 October 22, 2018
Many of my projects are custom new home buildouts. I am typically brought in at the onset of a project to design the custom kitchens and bathrooms for clients. My team and I work closely with the project architects and builders to execute our designs and to ensure the client gets exactly what they need and more. We spend a lot of time working on the design and layouts, as well as on specifications for all hard surfaces, lighting and carpentry required. But without a doubt, the layout is one of the most important aspects to kitchen design, since a bad layout is permanent and can ruin a cooking experience.

Traditional kitchens are very different from modern kitchens and carry different visual expectations and designs. However, even though they may aesthetically look very different, they both have the same functionality. I recently finished a custom kitchen in a home in Los Cabos, Mexico, where the client wanted an updated traditional Mexican-style kitchen with all of the latest and greatest appliances for both the kitchen and the staff prep kitchen directly behind it. The function and use were as important as the visual impact, since the open floor plan had this kitchen visible from two other spaces.
We started with carpentry style and layouts. After my initial sketches, my in-house architect created the CAD drawings, and I started the shopping process. Floor tile, counter slabs, carpentry knobs and lighting were all on my shopping list. I spent a full day specifying appliances and making sure they all fit into the spaces we designed and quoting it all out. Then we followed that with drawings for the custom mosaic backsplash tiles and the custom, carved-stone stove hood, which we had custom made in Mexico to give the kitchen an authentic local feel.

These are no secrets or rules when doing a great kitchen layout. Most of it is a thinking process and having knowledge on how a kitchen works and functions. It has a lot to do with the space you start with and the ability to be a team player and listen to everyone involved on the project before making final decisions. It usually takes two or three renditions of layouts before being able to reach a perfect project. The biggest advice I can offer young designers is to not get married to your first layout because somewhere along the line updates, changes and additional requests always come into play that improve upon where you started.
Photo Credit: Sara Richardson Photography