Designing the Ideal Laundry Space Today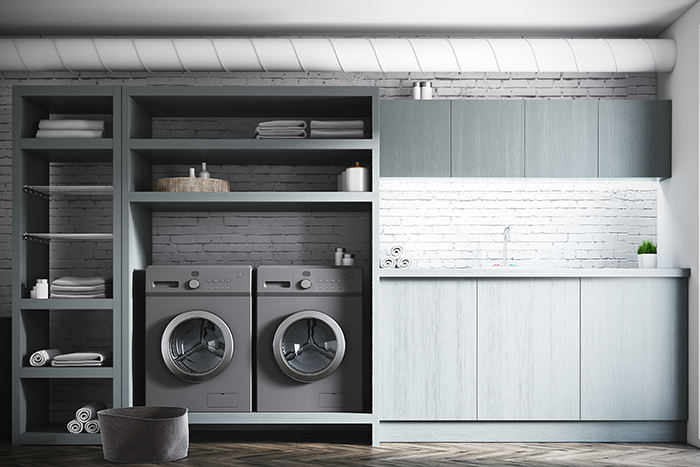 September 10, 2020
The laundry room has definitely improved since its days as a dingy, utilitarian-style space. Today it is not only meant to be beautiful but also a multi-functional, organized place that homeowners want to spend time in. This week's KBTribeChat discussed exactly what clients are looking for in these spaces today and how best to cater to their needs.
How Laundry Appliances Have Advanced
Just like other appliances, they've become faster, more energy efficient and come with more customizable settings to fit a family's lifestyle.
Laundry appliance technology continues to get smarter and easier. Today, laundry can be as connected as the rest of the home. Users can remotely monitor and control their wash and dry cycles right from their smartphones.
Consumers can now update their machine remotely, as well as receive repair diagnosis and get troubleshooting tips.
Appliances can let consumers know the wash is done, alert when to add fabric softener and keep clothes tumbling via voice controls.
Laundry has also become more energy efficient, with moisture sensors adapting drying times to prevent clothes from over drying while decreasing energy usage in the process.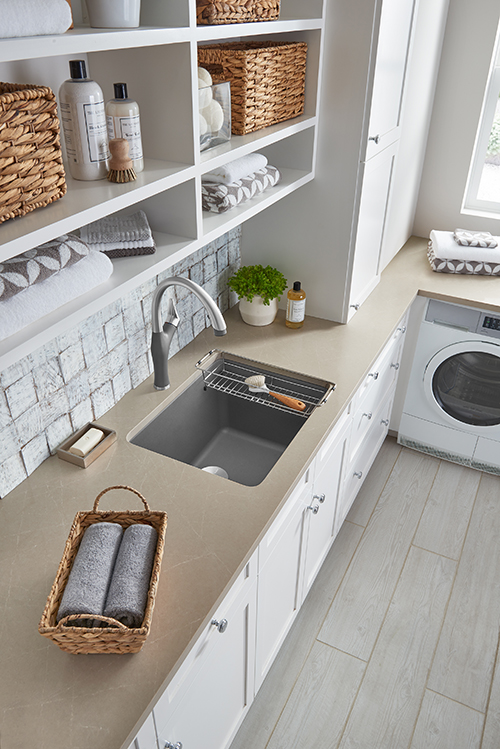 The LIVEN Laundry sink from Blanco

Turning a Laundry Room into a Multi-Functional Space
Having the right organization can combine the laundry room with a drop zone or even garage space.
Adding a small table and chair provides an area to focus on work while waiting for the laundry to be done.
A laundry room can include a mudroom, dog room or even a bathroom.
For homeowners who need to keep an eye on kids while they put some laundry in, the space can be reimagined as a playroom by adding a storage bench for toys and books.
Something as simple as adding a counter over the washer and dryer – as long as they're both front-loading – can add a lot of functional space to the laundry room.LG LGWADREW9004 Stacked Washer & Dryer Set with Front Load Washer and Electric Dryer in White
Features Homeowners Expect in Their Laundry Rooms
Storage should never be overlooked. Cabinetry, shelves, drawers, drying racks and laundry carts can help keep clutter at bay while organizing all of the laundry essentials in one place.
Waterproof, easy-to-clean floors, storage for cleaning supplies, sinks and hanging rods for air drying are all important and practical features as well.
A utility sink next to laundry offers a place to wash off muddy shoes, soak soiled jerseys, rinse delicate items, treat stains and more.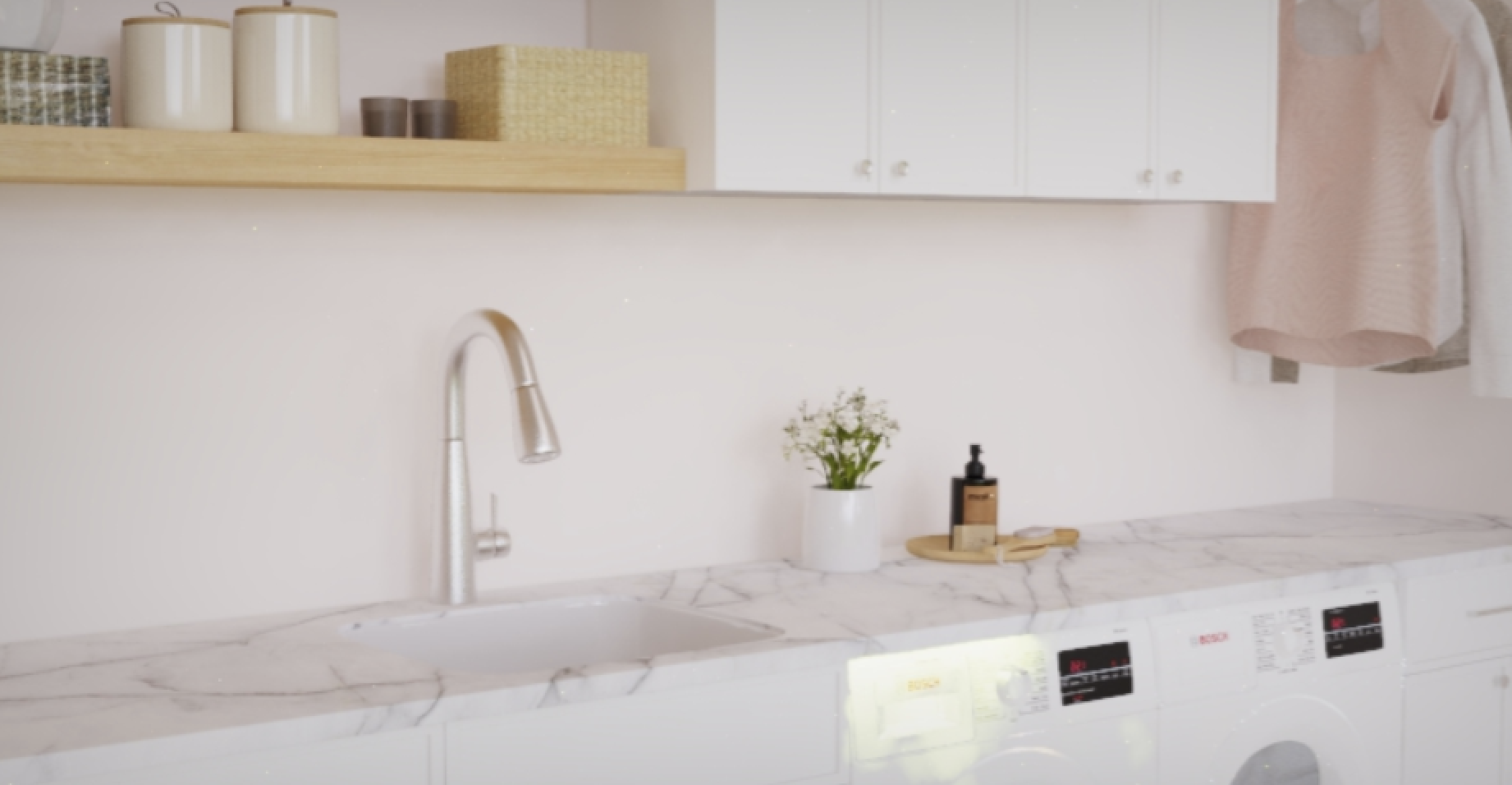 Surf (x) 3D Laminate Arabesque Crystal from OMNOVA Laminates
How to Encourage Organization in a Laundry Room
Cabinetry is key when it comes to laundry room organization. With the right storage options, there's no excuse for leaving a mess.
Baskets, jars, floor-to-ceiling shelves/cabinetry, pullouts and more offer the variety of storage needed for this type of space.
Pull-out hampers or trash bins keep things off the floor. Hooks and clothing bars provide areas to air dry clothes.
Label small items in baskets or clear containers so they don't get lost in the laundry room.
Consider matching storage items like uniform cloth baskets to maintain a cohesive, yet organized look throughout the laundry room.
Having the main hamper in the laundry room will keep clothes from being misplaced throughout the home.
Tune in to next week's KBTribeChat by searching for #KBTribeChat on Twitter at 2 p.m. EST Wednesday.