Exterior Living Spaces: Five Tips to Keep Your Project on Track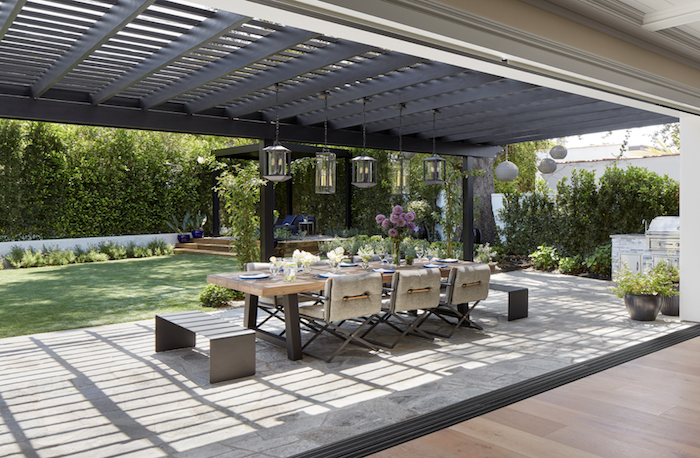 May 16, 2022
As designers know well, exterior living and entertaining spaces are being kicked up a notch as the lines between indoor and outdoor design are blurring more and more each day. With outdoor amenities becoming just as easily accessible as what's long been available for indoors, creating the perfect patio, deck or cabana is achievable no matter what condition of space your clients are starting with. Here are my "Five F's" to consider as you go through your design process:
Flooring. When selecting deck and patio surfaces, consider their care. It is important to understand how much effort it will take to maintain the surface as each has its own unique maintenance requirements. Be sure your clients are willing to give the surfaces the necessary upkeep. Patio surfaces also need to serve the homeowners' needs and lifestyle. If the outdoor space will be utilized for casual pool parties and pickup sports games, forgiving surfaces or hardy fescue are better suited. If fine dining and glamourous gatherings are more their style, large format solid surfaces such as travertine, slate or limestone are a solid choice. Consider the amount of direct exposure to the elements the surfaces will receive. Sun, wind, rain, and snow will all quicken the maturation of the materials. Reserve less durable surfaces for covered areas.
Furnishings. First and foremost, furniture needs to be comfortable because if it isn't, people will not want to use it. Save heavily cushioned pieces for covered areas. Even quick drying cushions will hold water for much longer than users would like. Consider the location of the project – will the furniture need to be stored or covered during storms or over winter? Is it best for it to be heavy in areas with high winds or moveable for various placements and storage? You will want to select pieces that are aesthetically pleasing, easy to maintain and of high quality.
Flow. You can create contemplative moments or celebratory soirees simply through the arrangement of the furniture. Quiet corners to read, sip tea or snooze should include a single, comfortable chair or chaise and provide clients with a place to put their feet up and rest a book and/or coffee close by. For festive gatherings, use lighter weight, moveable furnishings that can be easily placed to face one another and provide ample clearances for free movement.
Feature Lighting. Properly lit outdoor scenes are key to creating an intimate and relaxing space. Overhead bistro light strings create an easy atmosphere. On flat surfaces such as tables and floors, small battery-powered outdoor lamps will create beautiful ambient lighting. These outdoor lamps are much different than the camping lamps some clients might be thinking of; show them that they are now sexy and full of style! There are also options for solar lighting that install with minimal cost. Up-lighting is an excellent feature and creates such a dramatic effect when shining into trees or shrubbery. Lastly, candles are the final flickering touch to a beautiful and comfortable outdoor lighting set up.
Finishing Touches. Select décor pieces that make sense with the space and the outdoor elements that they will be exposed to. Additionally, source items that can be easily moved to store when not in use. Festive seasonal pieces are great for switching out on holidays and for special events. When decorating outdoor spaces, think about them the same way you design when you decorate indoor spaces, giving the same amount of attention to detail that suits the needs of your clients. Area rugs, comfortable furniture, beautiful lighting, plants, privacy drapes or dividers, pillows, cozy blankets and enough flat surfaces to place food and drink are essential for all exterior living spaces.
—By John McClain, principal of John McClain Design
– Top photo: Photographer: Zeke Ruelas