Five Reasons to Design with Reclaimed Wood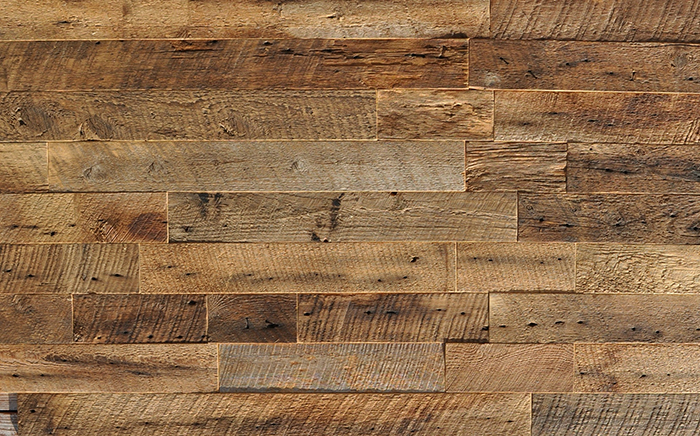 January 1, 2021
By Lacey Hutchinson, The Olde Mill and Ourso Designs
Reclaimed wood – with all of its age, character and rustic appeal – is not going away anytime soon in interior design. Whether used as a ceiling beam, open shelves or on an island, reclaimed wood can add warmth and authenticity to any style of design.
The Texture. The raw elegance of reclaimed wood's close-textured grain is something that isn't available from new wood sources – this is what sets it apart from others. Virgin wood may seem less expensive, but you'll be missing out on that long-lasting finished product that has a character all on its own.
Using Rare Resources. Long-leaf pine has always been the wood of choice in construction because it is extremely hard, easy to shape and durable. Years of deforestation by the logging industry has made it a rare commodity, so reclaimed wood is one of the only ways for consumers to get their hands on this amazing resource.
Customization. It's easy to use reclaimed wood to add personalization to a space. When carefully handled, reclaimed wood can be cut and finished to fit both modern and traditional aesthetics.

Rethinking Modern Design. When we consider "modern" design, we think of new and improved. However, sometimes this can define styles that are actually old. Let's look at fashion as an example. In the past decade, we have seen a lot of fashion trends circling back from past designs and styles. Although these trends are not the exact same, we can still notice how inspired from the past that these "modernized" designs are. Old wood replicates the same idea – an element of the past respun in a new setting feels contemporary.
Mix and Matches Well with Other Elements. Homeowners that want to convey the feeling of "handcrafted" and "homespun" authenticity can pair rustic wood with materials such as: natural textures like cotton, hemp, or linen; earthy tones in colors and patterns; leather, suede or animal hides; wrought iron, pewter or stressed metals

;

stone or concrete.
The Olde Mill is a premier manufacturer of handcrafted reclaimed architectural beams, mantels, floating shelves, door headers, posts and custom wood products.